Smrikve: "Entertainment possibilities: golf, diving, cycling, beach volley, go kart, water sports, flying,..."
---
There are many different entertainement possibilities that can be experienced during your stay in Smrikve. A part of cultural visits, museums, events, concerts described in Istria from Smrikve and gastronomy tour the following activities are also possible:
Golf
(Brijuni - 2 km distance)
The golf court in in Brijuni national park dates back in 1922 and is the oldest one in Croatia. It has 18 holes and total length of 5482 meters. The specific of this court is that you play golf surrounded by deers, peacock and other animals that inhabited the island.
Diving
(Camping Brioni Puntizela - 1.5 km distance)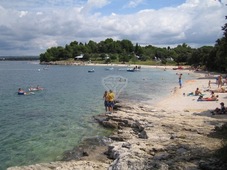 In Puntizela camping there is a diving center where you can complete the diving course and dive into numerous shipwrecks located in Pula sea. The most famous shipwreck in this part of the Adriatic Sea is Baron Gautch – the Austro Hungarian passenger ship that sank in 1914 and is located on 42 meters depth.
Other important shipwrecks are: Coriolanus, Flaming, Giuseppe Dezza, U-81, John Gilmore, Josefina, Varese and Hans Schmidt. A part of shipwrecks there are many natural beauties to be explored.
Water sports
(Camping Puntizela - 1.5 km distance)
On Puntizela beach you can try windsurfing, water skiing, jet sky, "banana" ride, boating, pedalo, etc. Traditionally in November the windsurfing Championship is held in Premantura named Hellowind that gathers surfers from all over Europe. In this part of the Adriatic Premantura is considered top surfing place.
Cycling
Many bike trails have been created over the last decades and the nearest to Smrikve are on the coastline but the most famous in Istria si becoming "La Parenzana", an old railway transformed into bike riding trail, that will allow you to visit a lot of natural beauties of continental Istria.
Beach Volley
(Camping Puntizela and Fazana - 1.5 km and 3 km distance)
Go Kart
(Pula - 3 km distance)
About 4 kilometres from Villa Smrikve you can enjoy with group of friends your driving skills on circular runway of 1200 meters long. Depending on your experience, you can try go cart from 9 HP to 125 HP.
Flying
(Medulin - 10 km distance)
If you would like to visit the southern part of Istria from the air in Medulin sporting airport there are several cesna planes with experienced pilots that can show you the beauties from the air in 15-30 minutes long flight.
Horse Riding
(Kastelir, Manjadvorci and Medulin - 0,5 km, 18 km and 15 km distance)
---
HISTORICAL OVERVIEW
Smrikve is a place surrounded by few prehistoric settlements but the modern history presented in the following pages that my family started to write starts in 1924.
The pinus pinea wood that stands above todays Smrikve was planted in 1957 when my grandparents arrived in this place. Before pinus pinea trees were planted all around the prehistoric hillfort settlement Castion or Vrh was full of Smrikve plants.