Visnjan – Visignano: "Is the birth place of Bernardo da Parenzo"
---
Near to this secular palace there is a public well that dates back in 1842. From the plateau there is a beautiful view towards western coast of Istria. Between the well and the 27 meters high bell tower from 1753 there is a Venetian loggia from 1600. This loggia was restructured in 1753.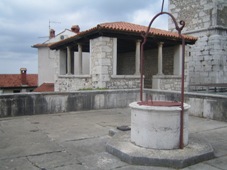 Nearby the bell tower there is the Church of St. Cyricus and Julitta from 1833 with a neo-classical façade. The church houses several interesting art works.
If you continue to walk around the old town you will find several nice old stone made houses and many houses that would need restructuring investments.
Not far away from the place where we left the car, walking few hundred meters away from the old town towards north, there is the Church of St. Rock from 1923. This church was actually rebuilt by transferring an older church of St. Rock that was placed on the location where a street was built later on.
Visnjan is the birth place of Bernardo da Parenzo. Bernardo da Parenzo was a famous painter that lived in the 15th century. He finished the painting school of Squarcione in Padua, in Italy, and his art works are today part of picture galleries in: Veneto region, Milan, Rome and also in Louvre Museum in Paris.
Several top quality Istrian wine producers are located in Visnjan area and also a one top quality olive oil producer. The top quality wine producers are: Franko Radovan from Radovani and Peter Poletti, Aldo Brenobic and Marko Brenobic from Markovac, Valter Zikovic from Bacva, Mario Perusic from Zenodraga and Dordano Perusic from Perusici. Peter Poletti from Markovac is also a top quality olive oil producer.
In Visnjan's photo gallery you will find few pictures of this lovely medieval Istrian town.
---
VISNJAN – HISTORICAL OVERVIEW
Like most of the other Istrian towns and villages also Visnjan has prehistoric roots. It was a prehistoric hill fort settlement and during the Roman period was a Roman settlement named Visignanum or Visinals. In an antique document was also named Gussignanus. Visnjan was part of Porec's dominions during the Roman and Byzantine period.
In 1077 Porec Bishops donated Visnjan to Eppenstein family and around 1200 it was ruled by Counts of Gorizia and by the Counts of Pazin. After 1278 when Motovun became part of the Venetian Republic also Visnjan started to join Venice but until 1374 Visnjan had problems with the County of Pazin.
Later on Visnjan followed the destiny of Motovun until the fall of Venice in 1797. Visnjan was involved in disputes and wars between County of Pazin and later on between Venice and Austria.
Particularly difficult for Visnjan was Uskoci war in 1617. From the 14th century various representatives of Motovun's Noble families ruled over Visnjan.
It is interesting to remind that in a document that dates back into 1475 and is related to Visnjan it is the first time that "Via Sclavonica" or Slavs road is mentioned.

First Slavs started to make inroads in Istria at the end of the 6th century but later on the immigration was partially regulated by the rulers of Istria.

Every time after the plague, that usually halfed the population in Istrian towns and villages, the immigration was needed to restore the countryside life, the agriculture in it, and also the towns' life.
In addition to that, many Slavs immigrants arrived in Istria escaping from the Turks when they started to conquer the Balkan.
With the fall of Venice, Visnjan became a part of the Austrian Empire and for a short period of time was under Napoleon domination. After the First World War and fall of the Austro-Hungarian Monarchy was part of Italy and after the Second World War became part of Yugoslavia (Croatia).
During the Italian Fascist period in Istria many Istrian families suffered from the regime or had to leave Istria. Fascism in Istria applied various repressive measures mostly towards Slav populations and this created the Antifascist Movement.