The Smrikve Oil and Wine are very important part of the Smrikve and Smrikva Bowl story.
We have a tradition on planting an Olive tree during every Smrikva Bowl. The Olive tree needs to be older than the oldest man living on the earth today.
At every Smrikva Bowl, during the ceremony of the Olive tree plainting, every Smrikva Bowl player put a tiny seedling of the land close to the root of the Olive tree and say his or her name. This way every year the new tree got new names and new souls from all over the World.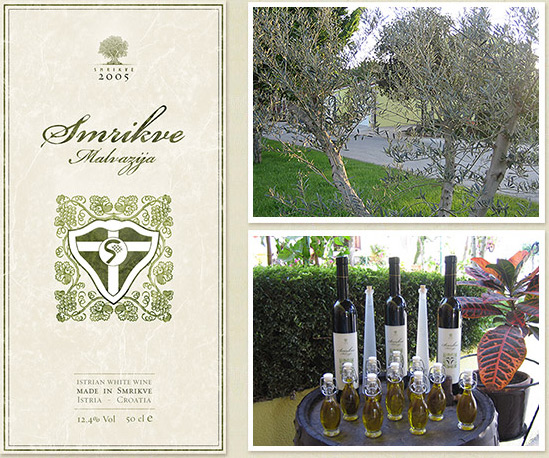 In the last years we start to produce a very limited collections of Smrikve wine. Every Smrikva Bowl player's family receive a bottle of Malvasia Smrikve wine. Smrikve Malvazija bottles and Smrikva Bowl olive oil bottles have already reached all the continents and almost 100 countries. Many people used nice words to describe our wine but I am pleased to share with you the words that Avv. Gianni Nunziante used to describe it:
5. maggio 2008.


Caro Miodrag,

sono stato a Vignamaggio questo week end appena trascorso ed ho trovato la tua bottiglia di Malvasia che ho bevuto con grande piacere.

Il vino é semplice ma profumato, gradevole come tutte le malvasie istriane...

Un caro saluto.

Avv. Gianni Nunziante
He used three words:
"semplice" - simple,
"profumato" - sweet - smelling,
"gradevole" - pleasant.
The words used by Gianni effectively describe the Istrian Malvasia.
Note: Avv. Gianni Nunziante is an important Italian wine maker and is also the owner of Vignamaggio. His wines used to get three glasses mark from Gambero Rosso that is one of the most important authorities for the Italian wines rating. Vignamaggio is a beautiful property located in Tuscany, in Grave in Chianti, and is, together with Antinori and Frescobaldi properties, among the oldest wine making properties in Tuscany. A written document, dated 1404, consists of a letter signed by Amido Gherardini, at that time the owner of the estate, which talks about "vino inbotato a Vignamag(i)o" (literally "wine placed in barrels at Vignamaggio"). In 2004, Vignamaggio celebrated six hundred years of winemaking.
Vignamaggio is also famous for the the daughter of Anton Maria Gherardini. The famous Mona Lisa - "La Gioconda", painted by Leonardo Da Vinci, was born at Vignamaggio in 1479.