Home / News

News
30/06/15
20 Smrikva Bowl 2015 edition videos are on line
20th SMRIKVA BOWL 2015 video
20th SMRIKVA BOWL 2015 GIRLS Finals
Alena KASATKINA vs. Anja PETKOVIC
20th SMRIKVA BOWL 2015 BOYS Finals
Branko DJURIC vs IKER SEVILLA
---
28/06/15
Some pictures of the 20th Smrikva Bowl 2015 actors :)... taken during the Sixth and Final day of their Smrikva Bowl... the AWARDING day... and the cake and swimming pool day :)
Smrikva Bowl finals are played since 1996 with linesman and ball boys… and at 8:30 AM everything was ready for the final act of this year 20th Smrikva Bowl 2015 Opera stage… :)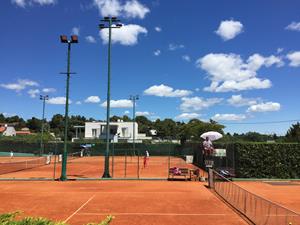 The Finals and Awarding ceremony day of the 20h annual started with traditional Staff gathering…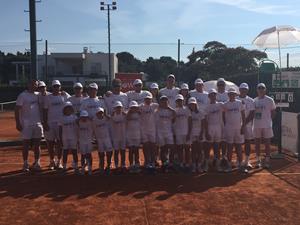 … over 100 invisible hands that make MORE THEN TENNIS a reality for a week… year after year…
The girls finals are per tradition scheduled at 9:00 AM and it always start with flower pictures of the finalists…
… the Main actors of this year Opera final act were Anja Petkovic and Alena Kasatkina :)…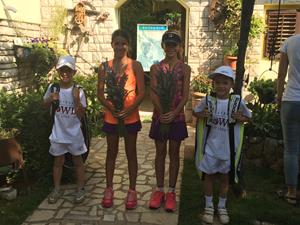 … Anja to serve… flying towards the sky…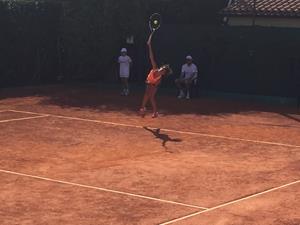 and here you see Alena in action…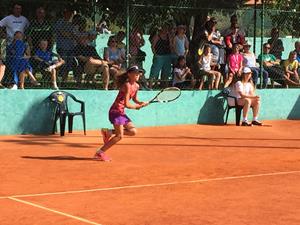 … over the years the seeds of the Legends change but the stage remain the same ;)…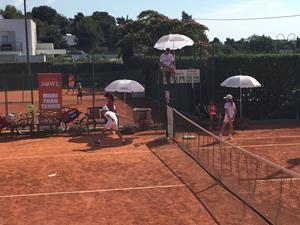 … it was a lovely tennis day… for all the people who gathered around the court #1 where all the 20th annual finals were played…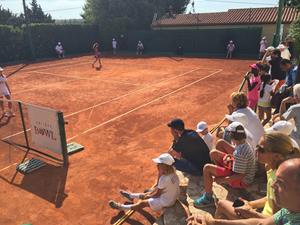 … another Anja's flying serve…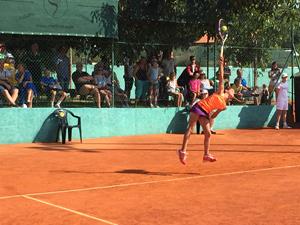 … with Alena's response…
… in the following you can see a ball boy of the 20th annual with ISTRIA FROM SMRIKVE sign ;)… our cultural Ambassador…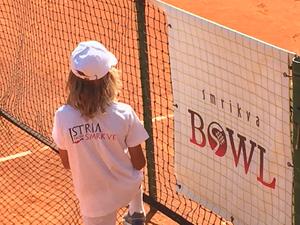 From the first edition ball boys are part of the stage… and this year Alena Kasatkina was able to win Anja Petkovic and take the bike to Russia…
Alena Kasatkina crowned herself the 20th Smrikva Bowl 2015 edition winner… and is the first winner from Russia in Smrikva Bowl history…
I am sure this is only one of the first meetings for the most Smrikva kids and there will be many matches in the future for most of them… and many opportunities to measure their skills development…
The garden of Smrikve during Smrikva Bowl always remind me a bit of a Central Park…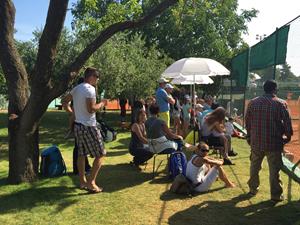 … in parallel with Main Draw finals… the Consolation Draw finals were played between… Jacquelyn Ogunwale…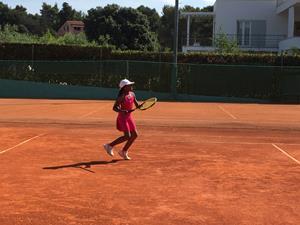 …. and June Bjork… and this time June won…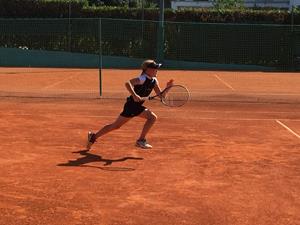 … after the girls finals… the boys were getting ready… and here you see Branko Djuric… relaxing before the official picture ;)…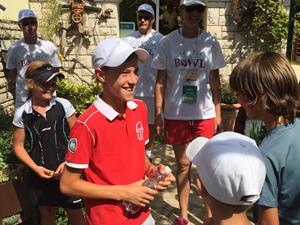 … several Smrikva girls were attending boys finals where the boys were preparing to start their entrance on the court…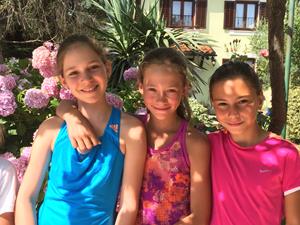 … ready to go on the court… ready for the finals between… Branko Djuric and Iker Sevilla…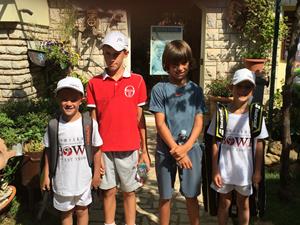 … before the decision who is going to serve one last picture together with Chair Umpire Damir :)…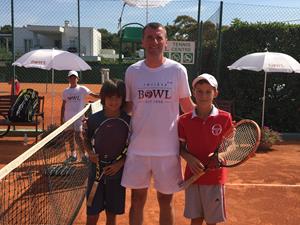 … here is Branko serving…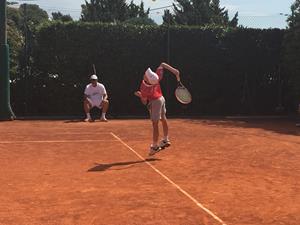 … Iker in action too…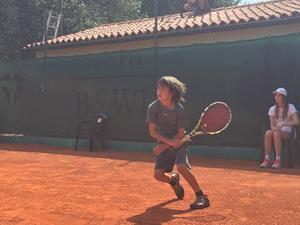 … Branko Djuric again…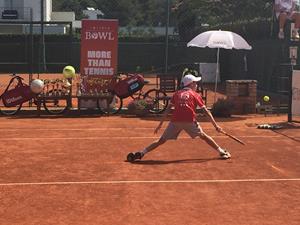 … Sevilla…
… Branko…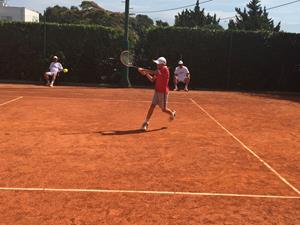 Iker…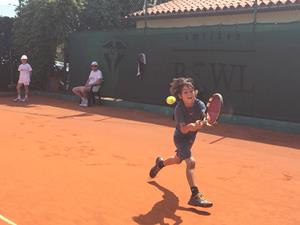 Branko…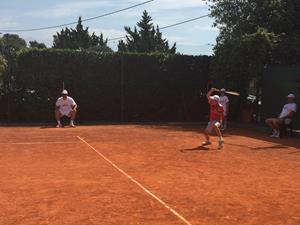 … a very interesting and inspiring experience for the most young children who are starting to love tennis…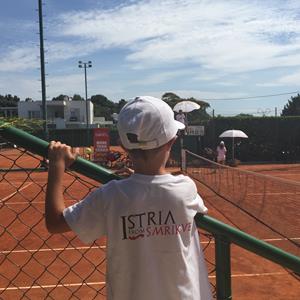 Branko Djuric showed a very high tennis talent level during the whole tournament… and in the finals was able to win today…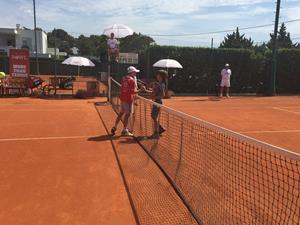 The same as with the girls finals… in parallel on court #2 the boys Consolation Draw finals were played between… Giacomo Nosei…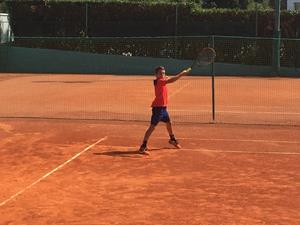 … and Daniel Zimmerman… and today Giacomo was able to take home victory…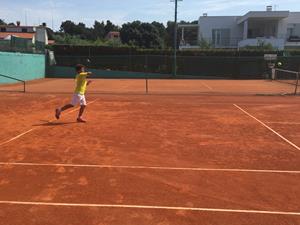 … many Spanish players came after the finals to congratulate both of the players… for making us all enjoy their talent and game :)…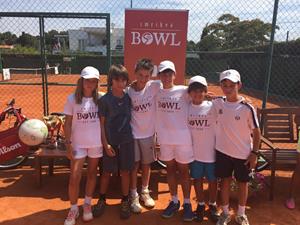 and now everything was ready for the AWARDING CEREMONY… 8 trophies were given the day before after the finals of the IGRA GAME… and there were in total 16 trophies for the singles and 16 medals too for the quarterfinalist…
… it was a nice moment because each awarded player was able to receive their award from a friend :D…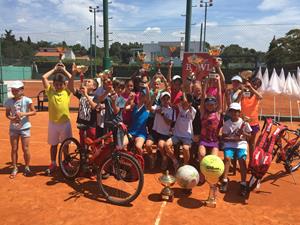 … and as per tradition… the winners always make a ride with their new bikes… and here is Branko…
… followed by Alena…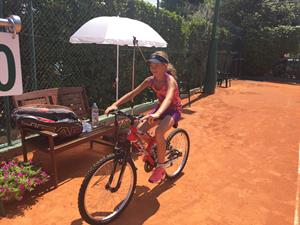 … the signature on the ball…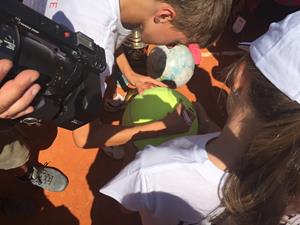 … for the memory of the moment…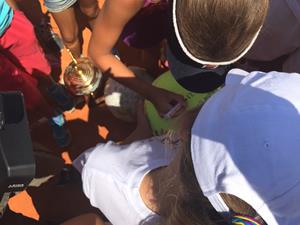 … and with Istrian Traditional Dance Balun… the AWARDING CEREMONY was closed… and as promised…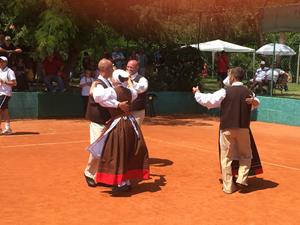 … the winners and awarded players invited all the friends into the swimming pool :)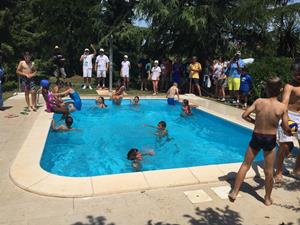 … o yes… here we are ;)…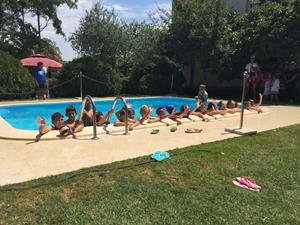 … a great award before the cake :D… and there were no more battery to take a picture of it ;)… but it was supper good…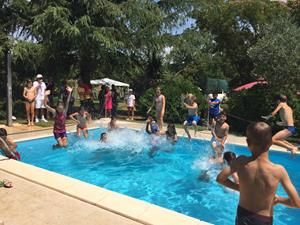 … both Branko and Alena as winners get the bicycle :)… one week training award at Mouratoglou Tennis Academy in Paris… possibility to get international Wilson contract… and Main Draw wild card for the next year Porto San Giorgio edition and Kopar Open… two important European under 12 tournaments…
It was a super particular edition… and I hope most of the kids will get a little of inspiration to keep developing their tennis talent… another great week of tennis in Smrikve…
THANKS to ALL the participants… players… families… coaches… and Smrikva Bowl Staff… FOR MAKING from the 20th ANNUAL… ANOTHER GOOD YEAR… :)
---
27/06/15
20th Smrikva Bowl 2015 Draws and Results... the winners of the 20th Annual are... Branko DJURIC and Alena KASATKINA
20th Smrikva Bowl 2015 Draws and Results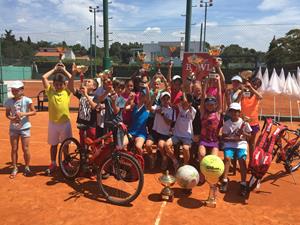 BOYS MAIN DRAW
Branko Đurić (MNE) – winner
Iker Sevilla (ESP) – runner up
Jose Aless Hernandez (ESP) – semifinals
Marc Majdandžić (GER) – semifinals
Pepe León Baleato (ESP) – quarterfinals
Dino Prižmić (CRO) – quarterfinals
Andrea Meduri (ITA) – quarterfinals
Andrew Salu (USA) – quarterfinals
GIRLS MAIN DRAW
Alena Kasatkina (RUS) – winner
Anja Petković (SRB) – runner up
Mare Gae (ROM) – semifinals
Linda Fruhvirtova (CZE) – semifinals
Malak Mansy (EGY) – quarterfinals
Klio Maria Ioannou (CYP) – quarterfinals
Petra Janigova (SVK) – quarterfinals
Mio Mushiga (JPN) – quarterfinals
---
BOYS CONSOLATION DRAW
Giacomo Nosei (ITA) – winner
Daniel Zimmerman (AUT) – runner up
Matej Dodig (CRO) – semifinals
Federico Garbero (ITA) – semifinals
Filippo Romano (ITA) – quarterfinals
Edin Mulalić (BIH) – quarterfinals
Daniel Phillips (BMU) – quarterfinals
Luka Plosnić (CRO) – quarterfinals
GIRLS CONSOLATION DRAW
June Bjork (SWE) – winner
Jaquelyn Ogunwale (NGA) – runner up
Lola Radivojević (SRB) – semifinals
Emma Roeck (USA) – semifinals
Anastasia Nikolova (BGR) – quarterfinals
Teodora Milić (SRB) – quarterfinals
Mao Mushiga (JPN) – quarterfinals
Tea Nikčević (MNE) – quarterfinals
---
"IGRA" GAME WINNERS:
Boys
Iker Sevilla (ESP)
Kevin Edengren (SWE)
Girls
Malwina Rowinska (POL)
Emma Roeck (USA)
"IGRA" GAME RUNNER UPS:
Boys
Dino Prižmić (CRO)
Matej Dodig (CRO)
Girls
Anja Petković (SRB)
Tea Živić (FRA)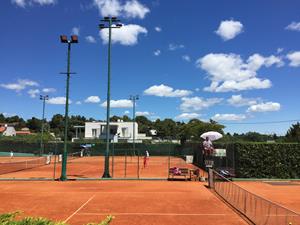 ---
27/06/15
Some pictures of the 20th Smrikva Bowl 2015 actors :)... taken during the Fifth day of their Smrikva Bowl... the day when "IGRA" game winners were known... :))... and the day when the finalists of this year edition were known... the BRIONI day :)
The fifth day was the day when the semifinalist of the Main and Consolation Draw were known… but was also the day of Brioni Islands visit and the day of the "IGRA" Game finals :)
I am pleased to present some of the actors of the Day who make it to the finals in their singles and towards the victory in special "IGRA" doubles…
MAIN DRAW FINALIST:
Boys
Branko Đurić (MNE)

Iker Sevilla (ESP)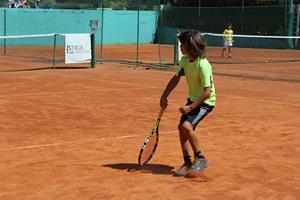 Girls
Anja Petković (SRB)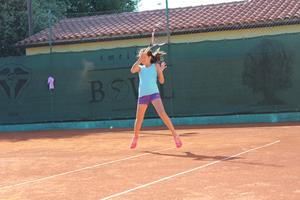 Alena Kasatkina (RUS)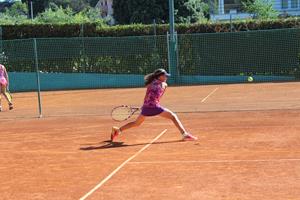 CONSOLATION DRAW FINALIST:
Boys
Giacomo Nosei (ITA)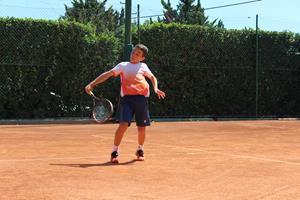 Daniel Zimmerman (AUT)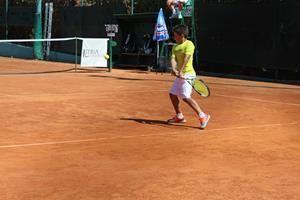 Girls
Jaquelyn Ogunwale (NGA)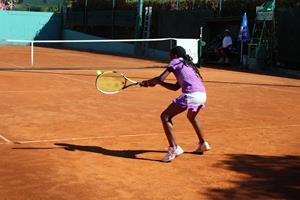 June Bjork (SWE) – EUROPE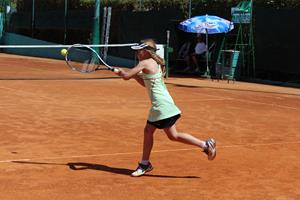 BOYS "IGRA" GAME WINNERS and RUNNER UPS: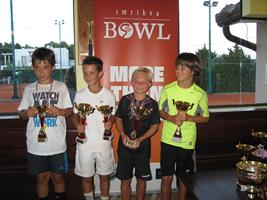 Iker Sevilla (ESP)
Kevin Edengren (SWE)
Dino Prižmić (CRO)
Matej Dodig (CRO)
GIRLS "IGRA" GAME WINNERS and RUNNER UPS: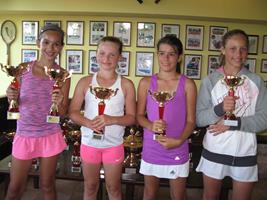 Malwina Rowinska (POL)
Emma Roeck (USA)
Anja Petković (SRB)
Tea Živić (FRA)
After the presentation of the actors of the Day… I am pleased to share a little piece of the Smrikve c Code story…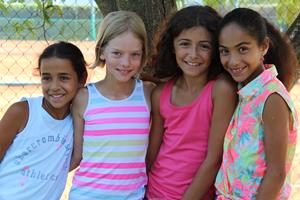 it is a story about virtue created by training and wish to learn… and to do that this year generation and STAR WARS imagination would help me again ;)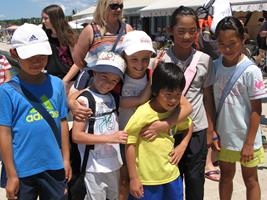 You have already met most of the actors presented over the past days and they do not need particular presentation any more ;)…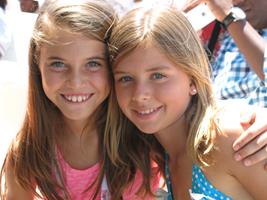 The Jedi are characters in the Star Wars universe bound to a code of morality and justice and are trained in the use of the light side of the force.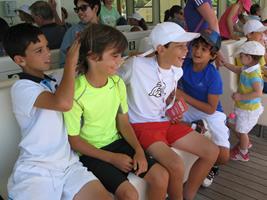 They learn to use the Force, and weapons, known as lightsabers, which emits a controlled energy flow in the shape of a sword, to serve and protect their Republic and the galaxy from conflicts or government instability…
Since long time ago I started to note the ability of Smrikva Bowl kids using the racket and thinking at the same time on Jedi's ability to use the lightsaber :)…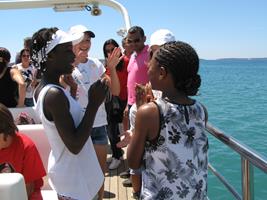 Some of my students use Wilson's ying & young damper… known as Tao sign… they like the symbol but are still too young to have an idea about it ;)…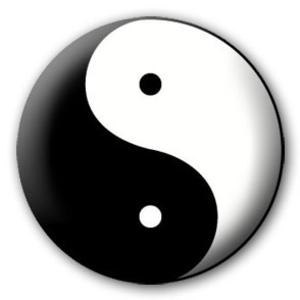 I will try to use this symbol to help me explain how little the difference could be in forming a balance in anything we do… every action has a reaction in our World…
….in the first classes of physics we learn Newton's third law…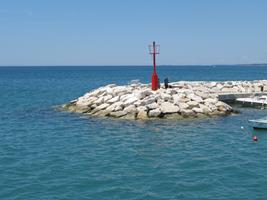 Tao is an abstract concept found in Taoism, Confucianism, and more generally in ancient Chinese philosophy and East Asian cultures.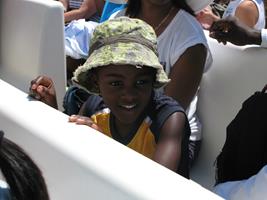 While the word itself translates as "way", "path", or "route"… it is often used philosophically to signify the fundamental nature of the World we are used to living on Earth…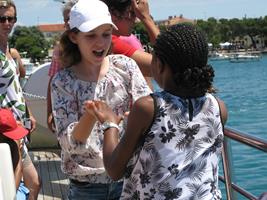 … it is often referred to as "the nameless", because neither it nor its principles can ever be adequately expressed in words.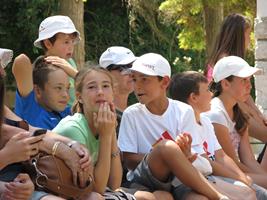 While the Tao cannot be expressed, Taoism holds that it can be known, and its principles can be followed.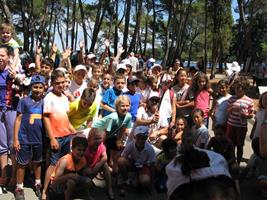 Much of Taoist writing focuses on the value of following the Tao – called Te (virtue) – and of the ultimate uselessness of trying to understand or control Tao outright.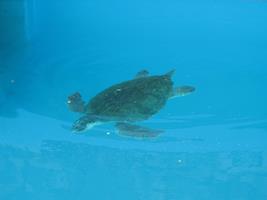 This is often expressed through yin and yang arguments, where every action creates a counter-action as a natural, unavoidable movement within manifestations of the Tao.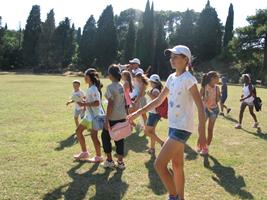 I used the above short explanation to introduce the Codes used in the Star Wars universe :)…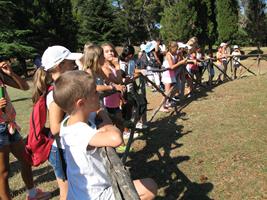 As in the Tao symbol there were knights trained to use the dark side of the force and the light side… this is the way how mankind functioned since the human written memory goes back…
For new ideas people have to go beyond… out of the known patterns by using their imagination… the kids are many times Master in this…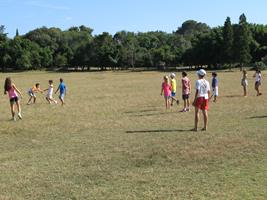 "Truly wonderful the mind of a child is."… :)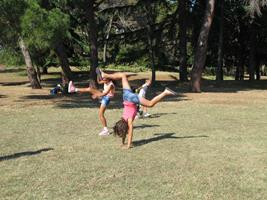 … and today is the FINALS Day… the day of the Cake… Awarding Ceremony Day… and the Day of the Swimming Pool :D
---
26/06/15
20th Smrikva Bowl Fifth Day Results and Order of Play for the Sixth Smrikva Bowl Day 27th of June
20th Smrikva Bowl 2015 Draws and Fifth Day Results
20th Smrikva Bowl 2015 Order of Play 27th of June
MAIN DRAW FINALIST:
Boys
Branko Đurić (MNE)
Iker Sevilla (ESP)
Girls
Anja Petković (SRB)
Alena Kasatkina (RUS)
CONSOLATION DRAW FINALIST:
Boys
Giacomo Nosei (ITA)
Daniel Zimmerman (AUT)
Girls
Jaquelyn Ogunwale (NGA)
June Bjork (SWE) – EUROPE
"IGRA" GAME WINNERS:
Boys
Iker Sevilla (ESP)
Kevin Edengren (SWE)
Girls
Malwina Rowinska (POL)
Emma Roeck (USA)
"IGRA" GAME RUNNER UPS:
Boys
Dino Prižmić (CRO)
Matej Dodig (CRO)
Girls
Anja Petković (SRB)
Tea Živić (FRA)