Smrikva Bowl Friends
Smrikva Bowl
If you belong to our large Smrikva Bowl family and wish to support the Smrikve legacy, its maintenance and development please feel free to share your thoughts... there is always something that can be done
---
WE WALK ALONE BUT I KNOW WE ARE NOT ALONE...

For over 26 years my family and friends are donating over 6000 working hours every year to make Smrikva Bowl happen with aim to inspire children to continue to pursue their dreams.
There is a dream that one day there will be the entire army of past Smrikva Bowl players who will be so successful global professionals and who will be doing much for their families, much for their communities, much for their preferred interests and will be also doing something for the new Smrikva Bowl generations... my hope is that they will find the invisible way to let the circle of inspiration continue <3 for many years to come...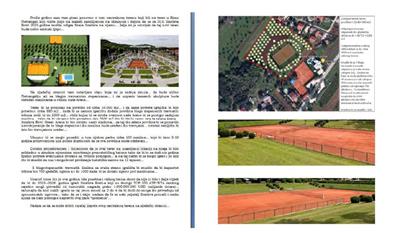 I have a dream to make real one day a Smrikva Bowl Green Arena Central Court surrounded by olive trees garden which will have the capacity to host around 200 families during the Smrikva Bowl finals... I have a dream that nearby that green tennis theater there will by a round classic monument to honor Smrikva Bowl seeds that helped us make real this dream...
I have a dream to maintain the beauty of Smrikve gardens for centuries...
I have a dream to continue to inspire new generations for decades to come... and I know I can not do it alone... I know that I will need your support...
Thank you! <3
Pula, 30th of October 2021, Miodrag Bozovic
---
Smrikva Bowl "Lucky Draw" contributors with signed items for the Smrikva Bowl children: Dominic Thiem & family, Borna Coric & family, Alex De Minaur & family, Donna Vekic & family, Carlos Alcaraz & family, Lloyd Harris & family, Alejandro Davidovich Fokina & family, Katie Swan & family, Lorenzo Musetti and Simone Tartarini, Matteo Donati & family, Miomir Kecmanovic & Miro Hrvatin & family, Olga Danilovic & family, Nicola Kuhn & family, Alex Eala and Michael Eala & family, Matej Sabanov and Ivan Sabanov, Katie Boulter & family, Viktoria Kuzmova, Petra Martic, Zvonimir Babic & family, Tereza Mihalikova, Gianluigi Quinzi & family, Roger Federer (thanks to Miro Hrvatin and Chris Jackman), Rafael Nadal (thanks to Luca Appino), Juan Martin Del Potro (thanks to Chris Jackman), Gael Monfils and Kaja Juvan (thanks to Tomislav Poljak), Grigor Dimitrov (thanks to Bulgarian visiting coach), Novak Djokovic (thanks to Zdravko Sinko), Mili Poljicak & family, Ivana Jorovic, Holger Rune & family, Petra Marcinko & family, Flavio Cobolli & family, Vilim Visak,
---

Smrikva Bowl M plus Family Holiday Week (SBM+FHW) (pdf ~0.54 MB)
---
---

Ronzio Oleodinamica is a hydraulic manufacturer company based in Milan in Italy. Ronzio family have supported Smrikva Bowl since its foundation.
One of the first gifts that they brought from Milan was a special ice cream made by Zela and only local people from Boffalora may understand what Zela means. This was the spirit behind the foundation of the tournament since the beginning. Allow the kids to try the top ice cream, allow the kids to create nice memories. The ice cream was brought with a lot of ice in the bag to conserve it during the car trip from Milan to Pula :).
---

Smrikve is the place where Smrikva Bowl is played and is the place where Mate and Milka Bencic (Matteo and Emilia Benci) settled in 1957. It is also the place where Smrikve vitus and olive trees are growing. Every guest who visit Smrikve and become Smrikve friends in a small way contribute to keep Smrikva Bowl story like a fairy tale.
Many people take vacations to be part of the Smrikva Bowl Staff and a special thanks is due to each of them.
---

Istria from Smrikve is an e-book about Istrian culture that aims to provide the reader with some useful information about the places that should be visited in the Istria region and is also a dream that one day Istria will become one of the nicest places for living in the World.
In Istria from Smrikve you will, among other, find information about the Istrian architecture, history, people, music, cuisine, olive oil, wine and major cultural events.
---

Luca Appino is a long term Smrikva Bowl friend and Golden Honorary Member since this title was established. In 2009 Luca decided to start, in collaboration with Toni Nadal, to share his experience through TENNIS TALENTS. The main focus of his idea is to help talented players and their families in understanding the requirements to reach the talent development potential.
---

Mouratoglou Tennis Academy is #1 tennis Academy in the World.
Smrikva Bowl friend Luca Appino introduced Smrikva story to Patrick Mouratoglou and since 2008 thanks to their friendship Smrikva Bowl winners are living at his Academy a wonderful tennis week every year.
---

Wilson could be defined as #1 tennis racquets and accessories company in the World. Legendary players such as Roger Federer, Serena Williams are only some of the famous tennis players currently using Wilson racquets.
Since 2008 Wilson is the Smrikva Bowl friend and I am pleased to say again thanks to Luca Appino who introduced Smrikva Bowl to Wilson.
---

Izo "iz Balici" is a company that operates mainly in the food business. They produce bread, biscuits, pastry, cakes and machines for food industry.
Balici is the village located nearby the village where my grandfather Mate (Matteo) was born and Roce family friendship started with my grandparents.
During the tournament we traditionally offer sandwiches and drinks to the players and family Roce help us to make Smrikva Bowl like a big eight days birthday party. Every sandwich we give to the kids is made of Balici bread and the cake for the finals is made for years in Balici.
---

Ledo is a Croatian ice cream brand and is the regional leader in the production and distribution of ice cream and frozen foods.
Many years ago Donna Vekic played Smrikva Bowl and her father Igor was at the time a manager at Ledo. Donna played Smrikva Bowl several times and her father Igor Vekic loved the experience his daughter was living and decided to donate to every Smrikva Bowl player one ice cream.
Since than Ledo continue to donate an ice cream to every Smrikva Bowl player.
---

Babic family are the founders of Komot company, one of the leading operators in Croatia dedicating among others to the production of tennis blende.
Vlado and Marija are also the parents of Zvonimir who played Smrikva Bowl twice several years ago. Since the first time their son played our tournament they decided to support Smrikva Bowl... and they always find the way to support Smrikva Bowl.
Vlado Babic is also the person that suggested the idea to plant an olive tree during the tournament. He enjoyed Smrikva Bowl and said that olive tree would be a nice idea and the year after we started to plant centuries old Olive Trees. It was decided to plant an old olive tree to add to the traditional message of the olive tree the message of intergenerational responsibility that is an important message for the kids of today.
---
Ljekarna Irena Grahovac & Ljekarna Majetic traditionally support Smrikva Bowl to cover our basic pharmaceutical needs for the event.
---
Please visit
www.smrikve.com
to learn more about Smrikve,
Istria from Smrikve
,
Smrikva Bowl
, one of the most important under 10 tennis tournaments in the World, and
Villa Smrikve
, for your accommodation with swimming pool in Stinjan (Pula - Pola) if you decide to spent your holiday in Istria, Croatia.