"Little Mo" / Smrikva Bowl
"Little Mo" Nationals
The "Little Mo" Nationals is the only national tournament in the USA for boys and girls 8, 9, 10, and 11 & under and is the culmination of the yearlong "Road to the Little Mo Nationals" circuit. The "Little Mo" tournaments are designed to be fun and provide good competition for the younger players at the sectional, regional, and national level. The players in the "Little Mo" Nationals are the youngest and brightest stars in US junior tennis.
The "Little Mo" tournaments are sponsored by the Maureen Connolly Brinker Tennis Foundation in memory of Maureen Connolly, who was known as "Little Mo".
In 1953, she was the first woman to win the Grand Slam winning all four major tournaments (Wimbledon, US Open, French Open and Australian Open) in the same year. The foundation has promoted junior tennis development for over thirty five years and continues to benefit countless numbers of boys and girls through the United States.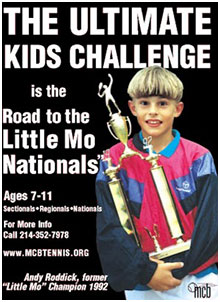 In 1992, Andy Roddick won the "Little Mo" title at 10 yeas of age. Today, he is one of the top players in the world. Andy was living in Austin, Texas when he won the title and the "Little Mo" was for Texas players only. The "Little Mo" circuit is now on a national level where over 1,700 players participate annually.
For more information about "Little Mo" please visit Maureen Connolly Brinker Tennis Foundation internet site www.mcbtennis.org or contact directly MCB Executive Vice President Carol Weyman on [email protected]
From 2002 till 2010… nine very special editions of the top Little Mo and top Smrikva Bowl players have been organized… for the first two years in Texas and the following seven years in Istria… after 9 years… since 2011 the selected top Little Mo Nationals players are invited to play in the Smrikva Bowl Main Draw.
---
Please visit www.smrikve.com to learn more about Smrikve, Istria from Smrikve, Smrikva Bowl, one of the most important under 10 tennis tournaments in the World, and Villa Smrikve, for your accommodation with swimming pool in Stinjan (Pula – Pola) if you decide to spent your holiday in Istria, Croatia.