Smrikve Country Club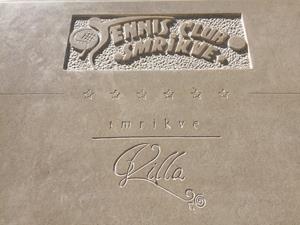 Smrikve Country Club is one of Pula's finest private tennis facilities featuring three courts, top quality clay surfaces, a parking area…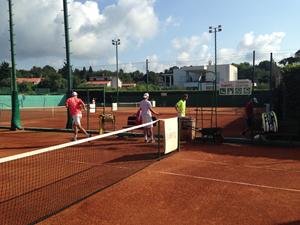 … and a beautiful garden with the swimming pool, surrounded with nice hosting facilities Villa SMRIKVE LOUNGE, Villa SMRIKVE CHARME, Villa SMRIKVE, Villa TASTE…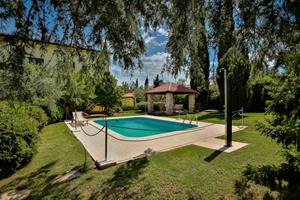 The Club was registered in 1996 although the first court was made in 1986. There are several players that play tennis in Smrikve since the first court was made.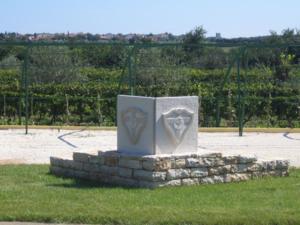 Smrikve is mostly famous in the tennis world as the place where Smrikva Bowl tournament takes place every year since 1996. Today this tournament is considered among the most prestigious under 10 tennis talents gatherings in the World. Smrikva Bowl Ambassadors spread in 101 country and all the continents are helping to write the Smrikve story mostly with their results and achievements.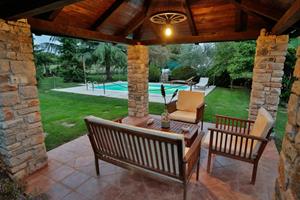 Smrikve is a privately owned estate surrounded by olive groves and vineyards. It is located mere 5 minutes from the beach, 10 minutes from Pula's Roman Arena, about 15 minutes from Pula's International Airport and only few kilometers from the World famous Brioni islands thus ideal for a quality tennis vacation…
We are pleased to invite you to visit three units with swimming pool each where you can stay during your visit: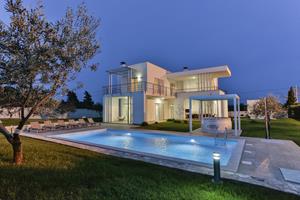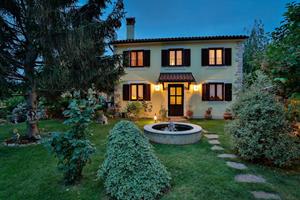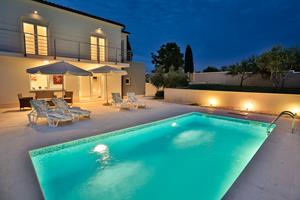 Our universe is made of:
• over 30 permanent recreational players
• Smrikva Bowl
• La Bottega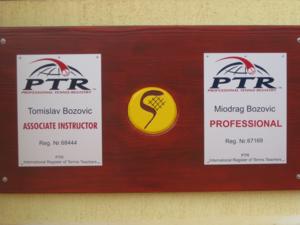 Smrikve is nice place for tennis, sea and also cultural heritage exchange that you can start discovering visiting "Istria from Smrikve" cultural tourism guide.
Konoba is our Club House. It means tavern in English and it is the place where our Club members gather after the game around the fireplace.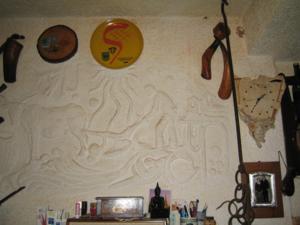 The following is the most beautiful Croatian song dedicated to a tavern named Konobo moja or "My Tavern". The song is interpreted in Arena of Pula by Jasna Zlokic and Klapa Kumpanji.
The word klapa translates as "a group of people" and klapa music is a form of traditional Croatian "a cappella" singing coming from Dalmatia. The motifs and text of this type of song in general celebrate love, wine (grapes), olive, country (homeland), sea and in this case the home tavern. Main elements of the music are harmony and melody.
Enjoy the music and the stage of Arena – one of the most beautiful World theatres under the stars.
---
SMRIKVE LIBRARIES
In 2009 we started building the Smrikva Bowl Library. Since then each Smrikva Bowl player brought with him a cultural book that will remember his stay in Smrikve and will represent his culture of origin.
Phisically Smrikva Bowl Library was arranged in August 2011 and is used as "La Bottega" teaching room…
At the moment in the Library you can find Ambassador's over 1300 donated books from nearby 80 countries, over 320 tennis and sport related books, and several hundreds of other books…
In 2014 we started to create smaller libraries in the units where travelers to Smrikve can stay…
---
Villa SMRIKVA CHARME Library List
includes 81 books most of which donated by friends of Smrikve over the years…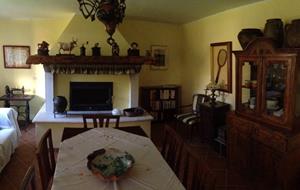 ANGELA ALBERTO, Una giornata nell'antica Roma, Vita quotidiana segreti e curiosita', Rai Eri Mondadori, Milano, 2009.
ANGELA PIERO, A cosa serve la politica?, Mondadori, Milano, 2011.
ANGELA PIERO e BARBERO ALESSANDRO, Dietro le quinte della Storia, La vita quotidiana attraverso il tempo, Rai Eri Rizzoli, Milano, 2012.
BALAŠEVIĆ ĐORĐE, Jedan od onih života, Salayka, Novi Sad, 2010.
BALLERINI ROLANDO, Massime greche e latine, Barbera editore, Siena, 2009.
BALLERINI ROLANDO, Un pensiero positivo al giorno, Liberamente, maggio 2009.
BALOTA MATE, Puna je Pula, Amforapress, Pula, 2005.
BALOTA MATE, Tijesna zemlja, Amforapress, Pula, 2002.
BARBERIS CORRADO, Aristide Merloni, Storia di un uomo e di un'industria in montagna, il Mulino, Bologna, 1987.
BASSETT BRUCE e EDNEY RALPH, La relativita' a fummetti, Raffaello Cortina Editore, Milano, 2008.
BELLI GINEVRA, il Grande Libro della Felicita', Barbera Editore, Siena, 2010.
BERTOLIZIO GIORGIO, Dogi, Nullita' al potere, Castelvecchi, Lit Edizioni, Roma, 2013.
BOZOVIC MIODRAG, Unione Europea e Democrazia Cosmopolita, un'idea per la pace, Milano, 2005.
BRANSON RICHARD, Screw it, Let's do it exapnded, Virgin books, London, 2007.
BRIGNANO ENRICO, Tutto suo padre, Rizzoli, Milano, 2012.
BURKE CAROLYN, Edith Piaf, No regrets, Bloomsbury, London, 2011.
CABIATI ATTILIO e AGNELLI GIOVANNI, Federazione Europea o Lega delle Nazioni?, Saggi & documenti, Edizioni Studio Tesi, Pordenone, 1995.
CAROLLO SABRINA, La vera storia di 400 frasi celebri e modi di dire, Giunti Demetra, Milano, 2008.
CHACE JAMES, Acheson, The Secretary of State Who Created the American World, Simon & Schuster, New York, 1998.
CHENEY MARGARET, TESLA, čovjek izvan vremena, Planetopija, Zagreb, 2006.
CLINTON BILL, My Life, Mondadori, Milano, 2004.
COOPER ROBERT, Slom država, Poredak i kaos u 21. Stoljeću, Profil epicentar, Zagreb, 2009.
DANTE, Divina Commedia, Vol 1., Vol 2., Vol 3.
DE LA SIZERANNE ROBERT, Federico di Montefeltro, capitano, principe, mecenate (1422/1488), Argalia Editore Urbino, gennaio 1979.
FALLACI ORIANA, Un cappello pieno di ciliege, Rizzoli romanzo, Milano, luglio 2008.
FALLACI ORIANA, Intervista con il potere, Rizzoli, Milano, novembre 2009.
FORNACIARI ZUCCHERO, Il suono della domenica, il romanzo della mia vita, Mondadori, Milano 2011.
FOLLMI OLIVIER, Himalaya, L'ippocampo, Genova, 2005.
GUNJAČA DRAŽAN, U sjeni razuma (Drama), Libro, Pula, 2003.
GUNJAČA DRAŽAN, Na pola puta do neba, prvi dio trilogije Balkanski rastanci, Libro, Pula, 2003.
GUNJAČA DRAŽAN, Ljubav kao kazna, nastavak romana Balkanski rastanci, Libro, Pula, 2002.
HICKS ESTER i JERRY, učenje Abrahamovo, Zapanjujuća moć emocija, Neka vas osjećaji vode, TELEdisk, 2008.
HOLBROOKE RICHARD, To end the war, Random House, New York, 1998.
HOSSEINI KHALED, IL cacciatore di aquiloni, romanzo Piemme, Casale Monferrato, giugno 2008.
JOVANOTTI, Gratitude, Einaudi editore, Torino, 2013.
KAPOR MOMO, Magija Beograda, Knjiga Komerc, Beograd, 2008.
KISSINGER HENRY, L'arte della diplomazia, Sperling Paperback, Milano, maggio 2004.
KRIZMANIĆ MIRJANA, U ljubavi i bez nje, Postojanost i prolaznost naših privrženosti, Profil, 2011.
KUPELWIESER PAUL, Brioni, Iz Sjećanja starog Austrijanca, Amforapress, Pula, 2006.
McARTHUR MEHER, Confucius, Quercus, London, 2010.
MONINA MICHELE, Vale va ancora veloce, zorro editore, Roma, 2009.
MONTI MARIO e GOULARD SYLVIE, La democrazia in Europa, Guardare lontano, Rizzoli, Milano 2012.
OBAMA BARACK, Odvažnost nade, razmišljanja o obnavljanju američkog sna, Profil, Zagreb, rujan 2008.
POLIDORI ELENA G. E VECCHI DAVIDE, I barbari sognanti, senza compromessi con Roma: il progetto politico che nasconde la lotta per il dopo Bossi, Alberti Editore, 2012.
PUZO MARIO dovršila GINO CAROL, Obitelj, Algoritam, Zagreb 2004.
QUILICI FOLCO, Il mio Mediterraneo, Arnoldo Mondadori Editore, Milano, 1992.
RAMPINI FEDERICO, Occidente estremo, Il nostro futuro tra l'ascesa dell'impero cinese e il declino della potenza americana, Mondadori, Milano, 2010.
RENZI MATTEO, Stil novo, La rivoluzione della bellezza tra Dante e Twitter, Rizzoli, Milano, 2012.
RIFKIN JEREMY, Il sogno europeo, come l'Europa ha creato una nuova visione del futuro che sta lentamente eclissando il sogno americano, Mondadori, 2004.
RIFKIN JEREMY, Economia all'idrogeno, La creazione del Worldwide Energy Web e la ridistribuzione del potere sulla terra, Saggi Mondadori, 2002.
ROTA DAVIDE, No money, no cry, risate contro la nuova casta, Mondadori, Milano, 2012.
RUSINEK STEPHANE, Psicologica Mente, 60 giochi, magie e illusioni per capire come funzionano i nostri pensieri, San Paolo, Milano, 2010.
SALINGER J.D., Lovac u žitu, šareni dućan, 2007.
SCOTT W. Vita di Napoleone, 1-24.
SEVERGNINI BEPPE, La pancia degli Italiani, Berlusconi spiegato ai posteri, Rizzoli, Milano, 2010.
SIANI ALESSANDRO, L'Italia abusiva, viaggio comico in un paese diversamente autorizzato, Mondadori, 2013.
SUBOTIĆ IRINA i BLAŽIN SMILJKA, Jeleni, prijatelji, Fond Jelena Šantić i grupa 484, Beograd, 2000.
SUROWIECKI JAMES, Mudrost masa, PROFIL Indigo, listopad 2007.
ŠARMA ROBIN, Kaluđer koji je prodao svoj ferari, Priča o tome kako da ostvratie svoje snove i uzmete sudbinu u svoje ruke, Mono i Manjana, Lazarevac, 2005.
ŠERBEDŽIJA RADE, Autobiografski zapis, do posljednjeg daha, Profil, Zagreb, 2005.
TEMPLETON JOHN MARKS, Le leggi d'oro della vita, Armenia, Milano, 1996.
THE ARENA AND THE NEARBY PARKS – PAST AND PRESENT, Archeological Museum of Istria, Pula, 2018.
TERZANI TIZIANO, La fine e' il mio inizio, Un padre racconta al figlio il grande viaggio della vita, Longanesi, Milano, 2006.
THE ARENA AND THE NEARBY PARKS – PAST AND PRESENT, Archeological Museum of Istria, Pula, 2018.
UBALDO NICOLA, Antologia illustrata di Filosofia, Dalle origini all'era moderna, Demetra, Firenze, 2002.
VERDONE CARLO, La casa sopra i portici, Bompiani, Rizzoli, Milano, 2012.
VILLAGGIO PAOLO, Fantozzi, rag. Ugo, la tragica e definitiva trilogia, Rizzoli, Milano, 2013.
WOJTYLA KAROL, La bottega dell'orefice, Libreria editrice Vaticana, Citta' del Vaticano, 2006.
---
Villa SMRIKVE LOUNGE Library List
includes 90 books most of which donated by friends of Smrikve over the years…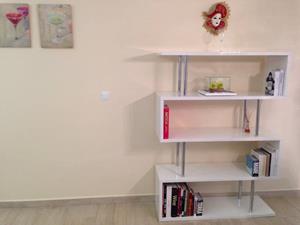 199 wonders of the World, The Finest Treasures of Civilization and Nature on Five Continents, Naumann &Gobbel, Lisse, 1999.
ANDRIĆ IVO, Znakovi pored puta; biseri našeg nobelovca, Sezam book d.o.o., Zrenjanin, 1981. (donated by family Despot)
APPINO LUCA (in collaboration with NADAL TONI), The World of Rafael Nadal, secrets of his success, 30 ways to improve your game www.rafabook.com 2009.
APRILIA RACING MANUAL, Noale, 1999.
ARCHAOLOGISCHES MUSEM ISTRIENS, HISTRIA, ISTRA, ISTRIEN, Ein Archaologisches Juwel in der Adria, Grafomark, Zagreb, Oktober 2005.
ARMENULIĆ RADMILO, Tenis – sve o tenisu, Sportska knjiga, Beograd, 1985.
BARICCO ALESSANDRO, The Game, Einaudi, Torino, 2018. (donated by family Pieragostini)
BARTA PETER, PJATEK SLAVOMIR, Bratislava Castle on Postcards, Slovenske narodne muzeum, Historicke muzeum, Bratislava, 2011.
BLOCKSIDGE DAVID, Journey through Singapore, A captivating Portrait of Singapore – from Marina Bay to Changi Airport, Tuttle Publishing, Singapore, 2016.
BONIFACIO ANDREA, ISTRIA e DALMAZIA, le citta' della Serenissima e la loro difes, ISTRIA and DALMATIA, the cities of the Serenissima and their defence, Terra Ferma, Regione del Veneto, marco Polo System G.e.i.e., Venezia, 2013.
BORNGASSER BARBARA, TOMAN ROLF, BEDNOTZ ACHIM, Architettura del Rinaschimento, un viaggio tra le opere d'arte piu' importanti e significative, idea Libri, Roma, 2010.
BOŠKOVIĆ RATKO, Ivica Todorić, Profil, 2017, Zagreb.
BOZOVIC MIODRAG, Unione Europea e democrazia cosmopolita. Un'idea per la pace, Milano, 2005.
CALABRESI MARIO, La mattina dopo, Mondadori, Milano, 2019.
CARMI EUGENIO, Budapesti Torteneti Muzeum, Fidia Edizioni d'Arte, 1992.
COGNOLI SIMONA, SQUADRILLI LUCIANA, Olio, lo straordinario mondo dell'olio extravergine d'oliva, Edizioni LSWR, Milano, 2017.
COLOMBO SANDRO, Moto Guzzi da corsa, tutti i modelli dal 1921 al 1940, Giorgio Nada Editore, Vimodrone (Milano), 1995.
CVEK ELMO, Order no.12: Pula in Austrian Epoch: people and Buildings, Histria Croatica C.A.S.H, Pula, 2016.
DAROVEC DARKO, PANJEK ALEKSANDER, KOVREČIČ PETRA, Srce Istre – poti kulturne dediščine, Heart of Istria – heritage and art: cultural itineraries, Založba Annales, Koper, 2007.
D'ALESSIO ORNELLA e SANTINI MARCO, Le piu' belle strade del vino, Itinerari in Europa tra filari e vigneti, De Agostini, Novara, 2005.
DOMINE ANDRE, Wine, Konemann, 2003.
ĐOKOVIC NOVAK, Serviraj za pobedu, četrnaestodnevni plan bezglutenske ishrane za vrhunska fizička dostignuća i mentalnu snagu, Laguna – Novosti, Beograd, 2013. (donated by family Despot)
COMMERFORD MARTIN THOMAS, The inventions, researches and writings of Nikola Tesla, World Cloud Classics, San Diego, 2019. (donated by Brice Gower)
EHLERS CHAD & STRAND HANS, Sweden, Schweden, Suede, Bonnier Fakta, 2016. (donated by family Malmstrom)
FON BOŠTJAN, Dušan Mravlje, Tek- moja norost, Didakt, Ljubljana, 2013.
FRISCIC VJERAN, Tenis bez tajni, Tenis, Zagreb, 2004.
GALLAGHER LEIGH, the airbnb story, Virgin books, London, 2017.
GAVANDE ATUL, Being Mortal, Medicine and WHat Matters in the End, Hamish Hamilton, Penguin Books, India, 2014.
GEILE FRANK, COLOGNE, with more than 200 tips on restaurants, bars and activities, Emons, Cologne, 2016.
GEORGE TOWN's Historic Commercial & Civic Precincts, George Town World Heritage Incorporated, Penang, 2015.
GIBBY MIKE, Street Art Penang Style, Entrepot Publishing Sdn Bhd, Penang, 2016.
GIGGAL KENNETH with paintings by CORNELIS de VRIES, Classic Sailing Ships, W.W.Norton&Company, New York – London, 1988.
GOMBRICH ERNST H., La storia dell'Arte raccontata da Ernst H.Gombrich, Leonardo Arte, Milano, 2000.
GOYA, I grandi maestri, Il sole 24 ore, Firenze, 2012.
GRANT ADAM, essere originali, come gli anticonformisti cambiano il mondo, La sfida al pensiero comune per creare nuove idee, Hoepli, Milano, 2016.
GRANT ADAM, Originals, How non-conformists move the World, Penguin Books, New York, 2017.
GRIGORJEVIĆ KIPNIS BORIS, Roždenije Peterburga, Fordevind, Sankt Peterburg, 2017. (donated by Veronika Dogaeva in 2021)
HAN FOOK KWANG, WARREN FERNANDEZ, SUMIKO TAN, Lee Kuan Yew, the man and his ideas, Marshall Cavendish Editions, Singapore, 2015.
HUGUES CARLO, Maslinarstvo Istre, Alaiografia Istriana, Ilustrirao Giulio de Franceschi, Ceres, Zagreb, 1999. (donated by Ilic family)
ISAACSON WALTER, Steve Jobs, Arnoldo Mondadoti Editore, Milano, 2011.
IVETIC EGIDIO, Istočni jadran, Povijesni atlas jednog sredozemnog primorja, Centro Ricerche Storiche – Rovigno, br. 44, str.1-415, Rovinj- Rovigno, 2017. (donated by family Mihovilic – Sverko)
JONES JAY BRIAN, George Lucas, jedan život, Profil, Zagreb, 2017.
JORDISON SAM, Enemies of the people, we'are all screwed and here's who to blame, Harper Collins Publishers, London, 2017.
KOCH CHARLES, HOOKS BRIAN, Believe in People, bottm-up solutions for a top-down world, St.Martin's Press, New York, 2020. (donated by Brice Gower)
KRSTULOVIĆ ANTE, Vina Hrvatske, Vodeći hrvatski vinari, najbolja hrvatska vina i najvažnije vinske sorte, Profil, Zagreb, 2009.
LASHINKSY ADAM, UBER, Kako preko taksija zagospodariti svijetom, Profil, Zagreb, 2017.
LAWRENCE KOH CHOON TECK, Growing up with Lee Kuan Yew, Educational Publishing House Pte Ltd, Singapore, 2014.
LIU SHICONG and GU QINAN, Famous quotes of Chinese wisdom, Commercial Press, Hong Kong, 2014.
LLOYD KYI TANYA, Il mio piano per salvare il mondo, Rizzoli, Milano, 2019.
LOREN SOPHIA, Ieri, oggi, domani, La mia vita, Rizzoli, Milano, 2014.
MANDELA NELSON, Io, Nelson Mandela, Conversazioni con me stesso, Sperling & Kupfer, 2010.
MARE, Cubebook, White Star, Vercelli, 2003.
MARUŠIĆ ČIČI DUŠKO, NAČINOVIĆ DANIEL, Istra – Hrvatska, Pula, 2000.
MIHOVILIĆ KRISTNIA, TERŽAN BIBA, HANSEL BERNHARD, MATOŠEVIĆ DAMIR, BECKER CORNELIA, Rovinj prije Rima, Rovigno prima dei Romani, Rovinj vor den Romern, Oetker-Voges Verlag Kiel.
MICHELSON GERALD & MICHELSON STEVEN, Sun Tzu, the ultimate collection, Advantage Quest Publications & Popular, Petaling Jaya, 2015.
MONTANELLI CLAUDIO, Pensieri, canzoni e poesie, Milano, 2013.
MONTANELLI CLAUDIO, Uomo probo, Milano, 2015.
MONTANELLI CLAUDIO, Fino alla fine, Milano, 2016.
MONTANELLI CLAUDIO, Foreign Fighter senza ritorno, Milano, 2017.
MONTANELLI CLAUDIO, C'e' aria di neve quaggiu', Milano, 2018.
MONTANELLI CLAUDIO, Nation, Storia di una rock band accattivante, Milano, 2019.
MOREL PHILIPPE, CROPPER ELIZABETH, HUBERT HANS, MAZZOCCA FERNANDO, MICHEL CHRISTIAN, QUINSAC ANNIE-PAULE, l'arte Italiana dal Rinascimento al 1905, Garzanti Editore, Cernusco S/N (Milano), 1999.
MOURATOGLOU PATRICK, Educate to win, Amphora sports, 2007.
NEGRI GIOVANNI e PETRINI ELISABETTA, ROMA CAPVT VINI, la sorprendente scoperta che cambia il mondo del vino, Mondadori, Milano, 2011.
O'BRIEN TERRY, The World's greatest speeches, Selection and Introduction, Popular in association with Rupa, London, New Delhi, 2016.
PELLIZON UMBERTO, FACCHIN NIKKI, ISTRA – ISTRIA, Grafiche Manzanesi, 2008.
PENANG'S LIVING LEGACY, Heritage traders of George Town, George Town World Heritage Incorporated, Penang, 2014.
PEROVIĆ BRANKO, Austrougarske ville i kuće u Puli, vraćanje memorije gradu, Pula, 2011.
PERRY JOHN CURTIS, Singapore – unlikely power, Oxford university press, New York, 2017.
PRAGUE, Pražsky Svet, Prague, 2009.
PRINA FRANCESCO e DEMARTINI ELENA, Grande Atlante dell'Architettura, Mondadori Electa, Milano, 2005.
PULA – Pula sa starih razglednica, Pola sulle vecchie cartoline illustrate, Pula auf alten ansichtskarten, and then the postcard arrived in Pula, C.A.S.H., Pula, 1993.
RAMPINI FEDERICO, America, Viaggio alla riscoperta di un Paese, Solferino, Milano, 2022.
SANT PETERSBURG, History- Architecture – Art, Sant Petersburg, 2017. (donated by Veronika Dogaeva in 2021)
SEELING CHARLOTTE, MODA, Il secolo degli stilisti, 1900-1999, Konemann, Milano, 2000.
SKAZI PUŠKINA, Živopisja Paleha, Sankt Petersburg, 2020. (donated by Veronika Dogaeva in 2021)
SONER CAGAPTAY, Novi Sultan, Profil, Zagreb, 2017.
SUBOTIĆ IRINA i LJUBIĆ IRINA, Jelena Šantić, Narodno pozorište i Grupa 484, Beograd, 2005.
TAN YEN FONG, Robert Kouk, Kanyin Publications, Kuala Lumpur, 2018.
TERRA, Cubebook, White Star, Vercelli, 2004.
TESLA NIKOLA, Moji pronalasci – My Inventions, Autobigrafija Nikole Tesle – Autobiography of Nikola Tesla, Znanje, Zagreb, 2015
THE ARENA AND THE NEARBY PARKS – PAST AND PRESENT, Archeological Museum of Istria, Pula, 2018.
TOLSTOJ L.N., Misli na kažnji denj, Moskva 2019 (donated by Veronika Dogaeva in 2021)
TRAVIRKA ANTUN, Istria – history, culture, art heritage, Forum, Zadar, 2006.
VACCARINI GIUSEPPE, Manuele del Sommelier, come conoscere, apprezare, valutare il vino e come gestire una cantina, Giunti Editore, Milano, 2005.
WEI CHEN, JACK MA, Founder and CEO of the Alibaba Group, the Authorized Biography by his Assistant, The real Jack Ma you may never have imagined to know, Pigeon Books India, New Delhi, 2015.
YEE CHEN MAY, The Royal Selangor Story, born and bred in pewter dust, Archipelago Press, Kuala Lumpur, 2012.
ZAMBRATIJA, Prehistoric Sewn Boat, Arheološki muzej Istre (I.Conzani Uhač, G. Boetto, M.Uhač), Monografije i katalozi 33, Pula, 2019.
ZUFFI STEFANO, Grande Atlante della Pittura, dal Mille al Duemila, Mondadori Electa, Milano, 2003.
ZUFFI STEFANO, il Rinascimento, 1401-1610: lo splendore dell'arte european, Mondadori, Milano, 2002.