Sumber – Casali Sumberesi:"Schomberg castle"
Sumber is located in the eastern part of Istria near to the river Rasa. You can reach it by following the indications on the road that goes from Krsan to Gracisce or by taking the secondary roads towards north west from Labin. It is worth visiting for its castle and hopefully one day this castle will return lovely again.




---
located 53 kilometres from Smrikve
not to be missed: Schomberg castle
---
SUMBER – VIRTUAL TOUR
The most representative building in Sumber is its castle that dates back into the 14th century. The village is quite spread in the countryside and you will need to ask some local people to indicate you the road towards the castle.
The whole complex would need restructuring and if you find the open doors and visit the court yard you will get the feeling how this place could be nice after restructuring.
There are still few round defence towers that can be seen if you take a walk around the castle. When I visited the place the courtyard was open and I had the possibility to enter inside the castle through its main gate. The court yard is today used to grow up chickens.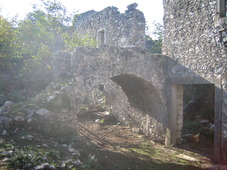 The major building that is located in front of the main gate is still in a good shape but if you look the buildings on your right side you will note several buildings with very interesting architectural elements.
In particular what I liked a lot are the two stone made bridges, the bigger and the smaller one. There is no water around but they reminded me of Venice.
An important restructuring could restore the beauty of this place and transform it into important resort place. In an angle of the property there is also a well.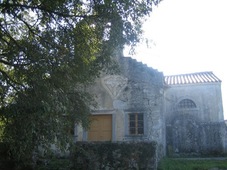 If you take the street, opposite to the main gate of the castle, you will arrive nearby the Church of St. John and Paul that dates back into 1679. The church was built on the site of the older one from 1508.
There are two other churches located near the village's cemetery that is several kilometres far away from the castle: the Church of Our Lady from 1440 and the Church of St. Quirinus from the 15th century.
---
SUMBER – HISTORICAL OVERVIEW
Sumber is not so old settlement compared to the most other Istrian town and villages that were inhabited since prehistoric times.
The village is mentioned for the first time in 872 when first Croatian families immigrated in the area.
Sumber was in origin named Sumberg and its name derive from the Noble family Schomberg or Schemperger, the vassal's of the Counts of Gorizia. They received this property probably before 1367 from the Aquileia Patriarchs.