Famous Istrians and Notable non - Istrians
This section is a part of the Istrian Cultural Heritage because the culture of every place on the earth is traced by its people. Towns and villages on Istria from Smrikve have been created by people over the centuries and I would like at least to list some of the famous Istrians and notable non – Istrians that over time contributed to write the Istrian story.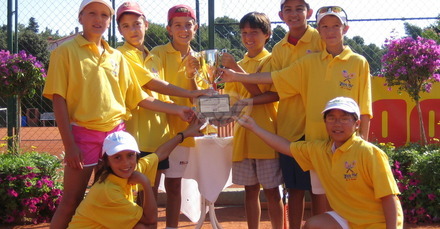 ---
Famous Istrians are the people who contributed to the arts, sports, science and the cultural heritage of Istria and its people. The list is incomplete and will be updated over time.
I wanted to start this session with few pictures from Smrikva Bowl. Many Smrikva Bowl players will write the most different life stories and many will be nice to recall and if they return to visit their olive trees, Smrikve and Istria maybe one day will become part of the following list :).
---
MUSICIANS
Andrea ANTICO (musician and publisher born in Motovun in 1470)
Franci BLASKOVIC (musician born in Pula in 1947)
Toni CETINSKI (musician born in Pula in 1969)
Sergio Blazic DJOSER (musician born in Pula in 1951)
Luigi DALLAPICCOLA (pianist and composer born in Pazin in 1904)
Luigi DONORA' (composer born in Vodnjan in 1935)
Sergio ENDRIGO (musician born in Pula in 1933)
Stjepan HAUSER (musician born in Pula in 1986)
Marijan JELENIC (musician and composer)
Gabrijela GALANT JELENIC (musician)
Bruno LANGER (musician born in Rijeka in 1949)
Nenad Marjanovic – Dr.FRIC (musician born in Pula in 1964)
Dario MARUSIC (Istrian ethno musician born in Kopar in 1957)
Ivan Matetic RONJGOV (musician and composer born in Ronjgi near Kastav in 1880)
Livio MOROSIN (musician born in Pula in 1963)
Tamara OBROVAC (musician born in Pula in 1962)
Bruno KRAJCAR (musician and composer born in Pula in 1972)
Franko KRAJCAR (musician and composer born in Pula in 1967)
Stanko MIHOVILIC (musician born in Lovran in 1920)
Nello MILLOTTI (musician born in Trieste in 1927)
Renato PERNIC (musician born in Kompanj near Roc in 1938)
Antonio SMAREGLIA (composer born in Pula in 1854)
Giuseppe TARTINI (violinist and composer born in Piran in 1692)
Slavko ZLATIC (musician and composer born in Slum in 1910)
ACTORS AND ACTRESSES
Alida Maria Laura Altenburger Baroness of Marckenstein and Freunberg – Alida VALLI (actress born in Pula in 1921)
Laura Antonaz ANTONELLI (actress born in Pula in 1941)
Marija CRNOBORI (actress born in Banjole in 1918)
Igor GALO (actor born in Cuprija in Serbia in 1948)
Antonio GANDUSIO (actor born in Rovinj in 1873)
Elvia NACINOVICH (stage actress born in Vodnjan in 1953)
SPORTSMEN
Mario Gabrielle ANDRETTI (racing car driver born in Motovun in 1940)
Nino BENVENUTI (boxer born in Izola in 1938)
Lino CERVAR (handball trainer born in Delici near Vrsar in 1950)
Stipe DRVIS (boxer born in Makarska in 1973 in Dalmatia)
Mate PARLOV (boxer born in Split in 1948 in Dalmatia)
Orlando SIROLA (tennis player born in Rijeka in 1928)
Giovanni CERNOGORAZ (sports shooter born in Koper in 1982)
Tereza MRDEZA (tennis player born in Pula in 1990)