Gradina – Geroldia: "Villa Giroldi"
Gradina is located in the western part of Istria on the old road that connect Bale to Vrsar. It is a small village that is interesting to be visited because of its countryside house from the 18th century, also named Villa Giroldi. The Villa on its back walls ends up with the church of the village.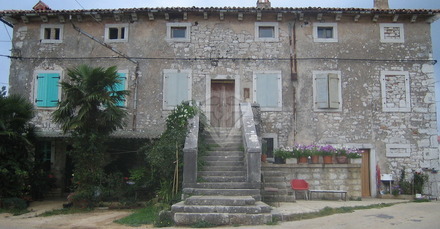 ---
located 38 kilometres from Smrikve
not to be missed: Villa Giroldi
---
GRADINA – VIRTUAL TOUR AND HISTORICAL OVERVIEW
Few kilometres after Klostar on your left side you will note a small hilltop and this is the place where Gradina is located.
There are no indications for the village but you have to take the road that turn left nearby the site where few cypresses trees grow. From there you have to follow the road up to the top of the hill.
Downside the hill on the left side you will note a small cemetery Church of Blessed Virgin Mary and few hundred meters from there you will arrive in front of Villa Giroldi, the most important secular building of the village.
It is a very simple two floors building with the central stone made stairs and symmetric six windows on each side.

As many other Istrian representative buildings also Villa Giroldi would need restructuring investments. Above the main doors there is a stone made coat of arms with two lions and an olive tree.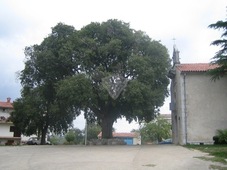 In the village you can still feel the smell of the cows and other animals. On the back of Villa Giroldi there is a huge hackberry tree and the Church of St. Andrew from 1720.
The village has few houses of which some are recently restructured and the other would need to be restructured. Also the house with the well on the right side of the Villa would need restructuring investments.
Gradina is another very old Istrian village that was probably a prehistoric hill fort settlement and in the Roman period was a Roman settlement probably named Castrum Calixedi.
Gradina had several other names during its long history and was known as: Calisedo, Calisedo al Leme, Geroldia and also as St. Andrea di Calisedo.
Gradina is mentioned for the first time in 1040 when Azzica, daughter of Count of Istria and Friuli, Vecellino, donated this property together with Lim Bay to the Bishops from Trieste.
In 1102 when Count Urlich II Weimar donated to the Aquileia Patriarchs most of their properties in Istria they excluded from the donation Gradina because this feud was given previously to the Bishops of Trieste.
In 1186 Bishops of Trieste gave the feud to Giroldo from Pula and it is interesting that Gradina was the only Bishops of Trieste property in Istria at the time and was their property until 1448.
Giroldi family moved later on in Trieste and than to Koper. They maintained the property of Gradina until 1592.

During the rule of Giroldi family the old name of the village Calisedo was changed into Geroldia.