Grimalda – Grimalda: "Belvedere of Istria"
Grimalda is another ancient Istrian village located on a 447 meters hilltop. This place is also called belvedere of Istra. From Grimalda you can enjoy one of the most delightful views all over Istria, and in particular over the lake of Butoniga.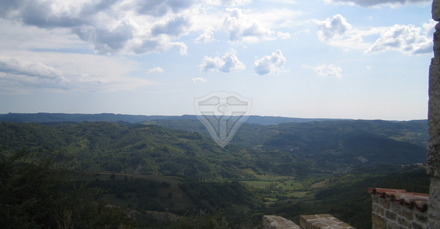 ---
located 63 kilometres from Smrikve
it is considered the village with the most beautiful view in Istria
---
GRIMALDA – VIRTUAL TOUR AND HISTORICAL OVERVIEW
On the road between Cerovlje and Draguc, if you are driving from Cerovlje, you have to turn left following the indication for Grimalda. Grimalda is located quite high and the road that will bring you up to the hilltop is a narrow road in various parts very steep.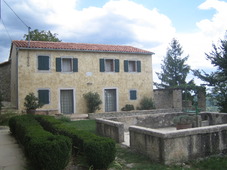 Grimalda village has only few houses. One house is a beautiful Istrian country house that has been recently restructured.
The other houses are abandoned and their architecture date back at the end of the 18th and the beginning of the 20th century. In front of them there is a well and a small square.
The two abandoned houses were both schools. The house that is located in front of the pretty house was the house of the Priest that over hundred years ago hosted the school.
Later on the second abandoned building between the well and the big church was built and than this new building hosted the school. The school was made for the children that were living in the nearby villages.
There are two churches in the village and both are dedicated to St. George. The bigger one, at the entrance of the village, was built in 1891, while the smaller one is a cemetery Romanesque church from the 13th century with a particular bell tower.
You may enjoy the visit of Grimalda, because Grimalda has one of the most beautiful Istrian belvederes.
Like many other Istrian towns and villages also Grimalda is a very old settlement. It is assumed that the name of the village has the Celtic origin.
During the Roman period it was a military settlement and at the beginning of the 11th century was donated by Marquis of Istria to the Aquileia Patriarchs.
In 1420 Grimalda passed under Venice and was part of the Venice Republic until its fall in 1797. Like all the others Istrian border towns it was involved in the wars between Venice and Austria at the beginning of the 17th century.
After the fall of Venice Grimalda became a part of Austria and after a short rule of Napoleon returned to Austria and the Austro-Hungarian Monarchy until the end of the first World War. Between the two World Wars was under the rule of Italy and after the Second World War became part of Yugoslavia (Croatia).
During the Italian Fascist period in Istria many Istrian families suffered from the regime or had to leave Istria. Fascism in Istria applied various repressive measures mostly towards Slav populations and this created the Antifascist Movement.