Slum – Silun Mont'Aquila: "The village of an old linden tree"
To reach Slum you can take near Roc the very narrow 7 kilometers countryside road. Roc is located on the road Lupoglav - Buzet and this narrow road starts on your right side driving in direction towards Buzet. This village is worth visiting just to admire for few minutes in silence the oldest Istrian linden tree.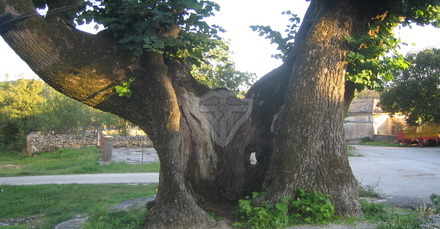 ---
located 92 kilometres from Smrikve
not to be missed: one of the oldest Istrian trees, more than five centuries old linden tree
---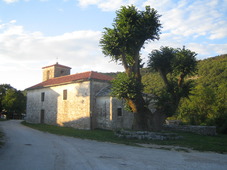 After 7 kilometres on the narrow road you will arrive in a quite and peaceful place. This is Slum and what will impress you is a huge and old linden tree near the Romanesque Church of St. Mathews from 1870.
The Church was built on the site of an older church from 1555. It is interesting that it is known that somewhere has been written that the church was built near the big linden tree.
According to this information it is likely that this linden tree could be at least five centuries old.
The linden tree in Slum is probably one of the oldest trees in Istria and this is the main reason why I decided to include this quite and peaceful village in the list of the places to present in Istria from Smrikve.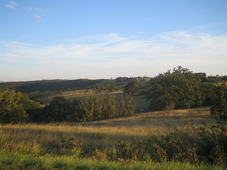 Today there are only about 30 people that live in Slum. In 1890, there were 390 inhabitants. Since 1394 Slum was part of the Raspor county and was part of the Venice Republic until the fall of Venice in 1797.
After the fall of Venice Slum became a part of the Austrian Empire and later on of the the Austro-Hungarian Monarchy. Slum vas also for a short period of time under Napoleonic domination. After the First World War it became a part of Italy and after the Second World War part of Yugoslavia (Croatia).
During the Italian Fascist period in Istria many Istrian families suffered from the regime or had to leave Istria. Fascism in Istria applied various repressive measures mostly towards Slav populations and this created the Antifascist Movement.
The Second World War was a very painful experience for the Istrian population and many innocent Istrians, both Slav and Latin, died during that war.
After the second World War Slum became part of Yugoslavia (Croatia). There were three agreements between Yugoslavia and Italy which established that Istria would become a part of Yugoslavia: Paris Agreement of 1947, London Memorandum of 1954 and the Osimo Agreement reached in 1975.
In the first decade after the Second World War many Istrians, especially those living in towns and villages that for centuries were part of the Venice Republic, decided to leave Istria.
In 1991 with the fall of Yugoslavia and the founding of the Republic of Croatia, the internal republic boundaries were recognised as the state boundaries and Slum is today part of Croatia.