Istra – Istria: "The heart of Europe..."

Istria is the most western county of the Republic of Croatia. A smaller part of it is today part of the Republic of Slovenia and another small part is part of Italy. Istria is the largest Croatian peninsula. Its broad cultural heritage makes Istria an ideal place for vacation any time of the year. Many European civilizations left their traces in Istria.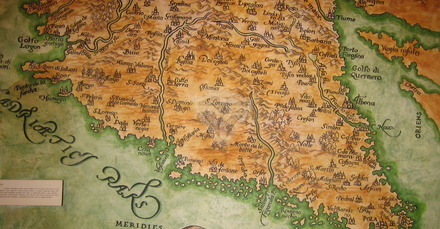 ---
In Istria you can still find places from prehistoric times, monuments from the Roman and Byzantine Empire, architecture of the towns from the Venice Republic and the Austro-Hungarian Monarchy.

All this and much more in one place that is not bigger than Rome, London, Paris, Tokyo or New York.
Prehistoric sites: Mali Sv. Andjeo, Lim Bay, Monkodonja, Nesactium
Roman period: Pula, Porec
Byzantine period: Porec
Middle Ages: Kostel, Hum, Krsan, Kozljak, Vrsar, Dvigrad, Pazin, Belaj, Gracisce, Pican
The Venetian Republic: Groznjan, Buzet, Draguc, Novigrad, Motovun, Porec, Sv.Lovrec, Rovinj, Bale, Labin, Vodnjan, Zavrsje, Oprtalj
Austro-Hungarian Monarchy period: Opatija, Pula
Italian period: Rasa
Post World War Two period: Rabac and most of the hotel buildings all around the costal area of Istria.
---
Smrikve is located close to the southern tip of the peninsula, near the city of Pula.

In a bit more than an hour you can reach by car almost every part of Istria.
The weather is characterized by the mild Mediterranean climate, with warm and dry summers and mild and pleasant winters.
The mild climate enables a pleasant stay in Istria during the whole year.
In Smrikve we play tennis all year long.
Since 1996 Smrikva Bowl is organized in Smrikve. This tournament is today considered one of the most important under 10 tennis tournaments in the World.

This event was born with the vision of promoting values which reach beyond all frontiers; the Cosmopolitan values. Culture, children, sports and music are part of the Cosmopolitan world.

If you see the form of Istria and use a bit of imagination you will be able to see that it is shaped in the form of a hearth.

Love is the cosmopolitan value per excellence, as far as people and humanity are concerned. It is nice that Smrikva Bowl, that promotes the values of friendship and love, is played in Istria, in the heart of Europe.