Veprinac – Apriano: "Old Romans Veprinacium"
This lovely small village is located on a 519 meters high hilltop. One way to reach Veprinac is to follow the indications for Veprinac nearby the village Icici, on the road Lovran - Opatija. From the old town gates there are 107 stairs to reach the old Roman military settlement with beautiful view that spread all over the Kvarner Bay.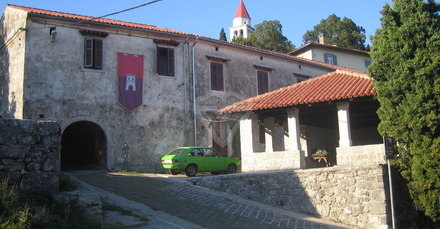 ---
located 86 kilometres from Smrikve
it was an important Roman military settlement
not to be missed: the old town gates and the view from the hilltop where the Church of St. Mark is located
---
VEPRINAC - VIRTUAL TOUR
When you arrive in front of the village you will be impressed by the town gates. These gates, according to some sources, date back to year 1300 but the glagolitic inscription on it shows the year 1574.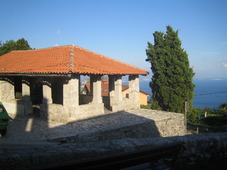 On the right side, looking towards the gates, you will see the town's loggia. The loggia was a typical Venetian building and institution. In particular, this loggia is closed from the northern side to avoid exposure to the "bura" wind.
On the left side of the town gates there is a Church of St. Ana from 1442. It looks like many Istrian smaller churches with a porch in front of the main façade.
Passing the lovely town's gate there are 107 stairs to arrive to the hilltop. At the top of the hill there is a big Baroque Church of St. Mark, rebuilt in 1547 and reconstructed in 1866.
Around the church you will see the remains of the Roman walls, over 6 meters high. You will also see that one defence tower has been transformed into a bell tower.
The view from the hill is particularly pretty and rewarding for the 107 stairs climb.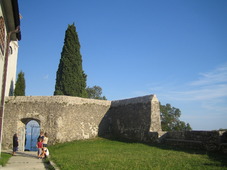 To return from the hilltop take the second road that passes by a very nice recently restored country house and you will arrive to a cistern from the 19th century that is located in front of the Priest house.
The origin of the name of this antique place is not clear. It is known that the place was inhabited in prehistoric times and in the Roman period, as testified by the walls that are still in place at the top of the hill.
In the Veprinac's photo gallery you will find most of the pictures of the buildings that have been described above. Enjoy the gallery.
---
VEPRINAC - HISTORICAL OVERVIEW
The names that the village had in history are several: Apriano (in Italian), Vapriano, Veprinacium (probably during the Roman period), Wiprinatz or Vapriniz (in German).