Savudrija – Salvore: "Old Roman village Silvo with the lighthouse"
Savudrija is the north-western limit of Croatian Istria. It is located 7 kilometres to the north of Umag. Savudrija is famous for its oldest lighthouse in this part of the Adriatic and also for the way people take out the boats from the sea.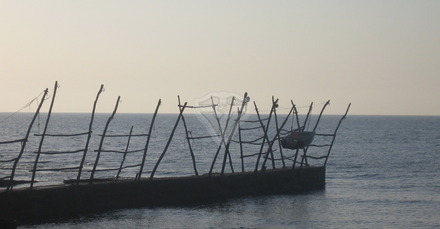 ---
located 88 kilometres from Smrikve
Mediterranean charm and atmosphere
not to be missed: the oldest lighthouse in this part of the Adriatic sea and the way people take out their boats from the sea
Istria from Smrikve aims to promote Istrian cultural heritage... Slow Travel, Slow Food and Sustainable Living... and in this section dedicated to Savudrija-Salvore's heritage you may note the permament virtual "Slow Travel Exhibition" of selected families and events worth visiting... you will find recommended accommodations, restaurants, wine and olive oil to taste, event to attend... :)
---
SAVUDRIJA – VIRTUAL TOUR AND HISTORICAL OVERVIEW
On Cape Savudrija you should visit a 36 meter high lighthouse built in 1818. It is the oldest lighthouse in this part of the Adriatic sea and it was the first in the World to use the gas derived from the coal for its work. To find it you should ask people on the road to indicate you the street because it is not located exactly in Savudrija village.
Following the coastline you will also find very particular the way people take out their boats from the sea. This is very typical way to do it in this zone of Istria.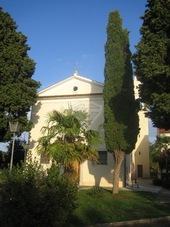 In the village you will find few houses and the Church of St. John the Evangelist that dates back into the 11th century but was rebuilt in 1826.The bell tower dates back into 1869. Nearby the church there is a house with a stone inscription on the façade and a coat of arms from 1475. In front of the house there is also the well from 1776.
It is interesting the legend on how this village got the name. According to the legend the famous sea battle from 1176 in which Venetian ships defeated the fleet of the German Emperor Friedrich Barbarossa and the Pope Alexander the 3rd took place near Savudrija.

According to the legend the son of Barbarossa during that naval battle found the shelter in a cistern in Savudrija. Always according to the legend it is assumed that Salvore (Salvo re), which in Italian means the King's salvation, become later on the name of the village. In Croatian is named Savudrija.
It is not proved that this battled really happened because according to some other sources the son of the King was took by Venetians. In the 16th century Jacopo or Domenico Tintorretto painted the scene of this famous sea battle for the Municipal palace of Piran.
Also Savudrija had several different names during its long history like most of the others Istrian towns and villages. Some of the names were: Silboris, Silbonis, Silbio, Silvium, Silvo, Salbera and Salvore.