Pazin – Pisino: "Jules Verne's and Vladimir Nazor's inspiration"

Pazin is located in the centre of Istria - in "the heart of Istria". It is famous for its castle located on the top of the Pazin's Pit. This natural abyss of 130 meters inspired Jules Verne and Vladimir Nazor. Some people guess that might have inspired also Dante Alighieri. Pazin's caste is the best preserved medieval castle in Istria.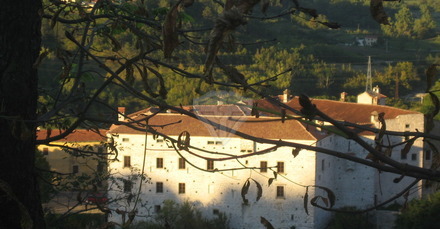 ---
located 46 kilometres from Smrikve
it was for centuries the heart of Count of Gorizia dominions in Istria and later on the Austrian dominions in Istria
not to be missed: the castle, the pit, the frosceos paintings of the Parish Church of St. Nicholas and the last supper in the Franciscan Monastery
around Pazin (not to miss): Zarecki krov and Camus property on Gortan's hill (in origin an old monastery)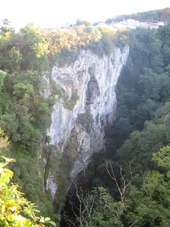 Throughout the Istrian history Pazin had a significant role. For many centuries it was the most important administrative centre for Austria's dominions in Istria.
Today it is the administrative centre of the Istrian county and the cultural and economic centre of the continental Istria.
It is known that Pazin's Pit, this natural phenomenon, have probably inspired also Dante Alighieri and later on for sure the French writer Jules Verne for the novel Mathias Sandorf.
Every year at the end of June, during the Days of Jules Verne, performances are held on the trial of Mathias Sandorf and his escape from the Pazin's castle. Pazin's Pit was also the inspiration for Vladimir Nazor.
---
PAZIN – VIRTUAL TOUR
Your visit of Pazin should start from the castle. The castle is mentioned for the first time in the 10th century and the current aspect dates back into the 16th century.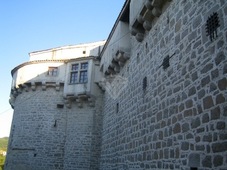 The castle of Pazin is among the biggest and best preserved medieval castles in Istria. It houses the Ethnographic Museum of Istria and the museum of the town. On the ground floor there is a collection of Istrian bells from the 14th until the 20th century.
The ethnographic collection comprises objects from everyday life and Istrian music instruments, while the archaeological collection shows the history of the area from prehistoric times till the late Middle Ages.
The castle is composed of four tracts organized around the central yard and the ground floor shows visible elements of Romanesque architecture. It was restructured in the 14th century and later on by Walsee family.
The current appearance of the Castle was completed between 1557 and 1560 by the Captain Alessio Mosconi and Baron Swetkovitz, when the northern rounded tower and eastern wing were built.