Zrenj – Stridone: "Native town of St. Jeronim, famous Bible translator"

This small village in the northern part of Istria called Zrenj is in Italian called Stridone. Antique Stridone is supposed to be native town of St. Jeronim, the famous Bible translator, who lived from around 350 AD until 420 AD. He left Istria 371 AD., studied in Rome and later on worked and lived in Aquileia.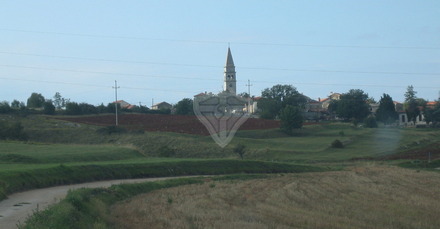 ---
located 79 kilometres from Smrikve
it is probably the native town of St. Jeronim
not to be missed: several interesting houses that characterise the village
---
ZRENJ – VIRTUAL TOUR AND HISTORICAL OVERVIEW
It is known that St. Jeronim translated the Bible from Greek into Latin and it is also known that he left Istria very young in 371 AD. He studied in Rome with Elio Donato and later on he lived and worked in Aquileia.
If you decide to visit this small village, than on the road that goes from Buje to Buzet turn north towards Oprtalj and after Oprtalj follow the directions to Zrenj.
Before you enter the village, on your left side, you will see the small Church of St. Jeronim. It was built in 1910 on the site of an older church that was mentioned in the 16th century. The bell tower of the Parish Church is 36 meters high and was completed in 1887.
On the right side there is a very small hill named St.Jeronim where the ruins of the old walls were found and this could be the place of the antique Zrenj castle.
Older people used to say that a bell tower is the pride of the place if one can see the largest number of other villages' bell towers from its top. Zrenj's bell tower is one of those because Zrenj is located 427 meters above sea level.
The Parish Church is dedicated to St. George and was extended for the last time in 1627.
Today, Zrenj is a small village with several stone houses recently restored and some other nice houses that are in need of renovating.
It is known that Gravisi family, the rulers of Kostel (Pietra Pelosa), used to have a Palace in Zrenj built in 1778. It is hard to establish if any of current Zrenj's buildings is the Gravisi Palace.
Not far away from Zrenj, in Cabrnica, there is agritourism Toncic, run by the Toncic family, where you can taste some good Istrian food.
Like most Istrian towns and villages, Zrenj was also an antique settlement with prehistoric roots. During the Roman period it was named Stridonium. It was a fortified village and it is known that from 1063 it was ruled by the Aquileia Patriarchs.
In 1300 it was under Kostel administration and from 1420 under the Venetian Republic. In 1440, family Gravisi became the rulers of Kostel and also of Zrenj.
In the 19th century the village was part of the Austrian Empire with the short period of Napoleon's domination. After the First World War, after Austro-Hungarian Empire was defeated, it was part of Italy and after the Second World War become part of Yugoslavia (Croatia).