Smrikve: "Smrikva Bowl in the Old Roman Astinianum"

The entire story about "Istria from Smrikve" starts from Smrikve - the place where my grandparents Mate and Milka Bencic (Matteo and Emilia Benci) settled down with their family in October 1957. Today, Smrikva Bowl - one of the most particular under 10 tennis tournaments in the world - is played in Smrikve every year.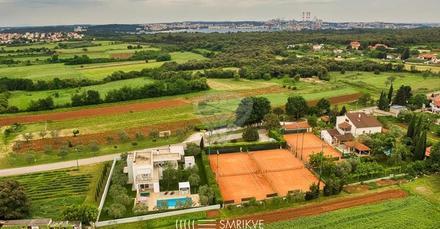 ---
located 3 kilometres from Pula and 2 kilometres from the Brioni islands (Trieste 120 km, Ljubljana 200 km, Venice 286 km, Zagreb 290 km, Milan 557 km, Vienna 560 km, Munich 650 km)
it is the place where Smrikva Bowl is held, one of the most important Under 10 tennis tournaments in the World
not to be missed: playing tennis, wine and olive oil testing, romantic dinner on the seaside, chat with the author of "Istria from Smrikve", swimming in the criytal blue sea in front of one of the most famous islands in the World, the sunset view from Monte Grosso fortress, bike riding or long walks in front of the Brioni islands from Puntizela, Valbandon, Fazana till Peroj.
events not to be missed: Smrikva Bowl yearly at the end of June – beginning of July
---
Smrikve is a charming privately owned estate, situated on the outskirts of the city of Pula, in the old Roman Astinianum (Stinjan), surrounded by olive groves, lavender, vineyards and very famous tennis courts.
In Smrikve we can accommodate several families and if you decide to include Istria in your travel itinerary, you can be our host at Villa SMRIKVE and 5 star Villa SMRIKVE LOUNGE...
We are located mere 5 minutes from the beach, 10 minutes from Pula's Roman Arena, about 15 minutes from Pula's International Airport and only few kilometres from the World famous Brioni islands.
Since 1996 the Smrikva Bowl has been organized in Smrikve and today this tournament is considered to be one of the most prestige under 10 tennis tournaments in the World...

... and Smrikve is also home to "La Bottega" di Smrikve tennis school and Smrikve Tennis Club.
My grandparents moved with their family to Smrikve in 1957 from Bencici village (central Istria).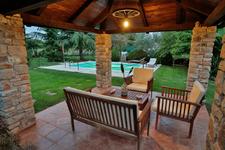 The place, where they settled down, was called Smrikve since long time ago because the place where Villa SMRIKVE and SMRIKVE LOUNGE are today were all juniper plants (Smrikva) around.
Smrikve is a Mediterranean plant - also named Juniper in English and Ginepro in Italian - that grows all around Istria and in many other places in the World.