Vrsar – Orsera: "Giacomo Casanova's town"

Vrsar is located on the coast line of the western part of Istria between Rovinj and Porec. It is lovely and old Istrian town known for being Porec Bishops' summer residence for centuries. Vrsar is also famous for the visits of famous Venetian lover Giacomo Casanova. He wrote about Vrsar as a place of good refosc wine and nice women.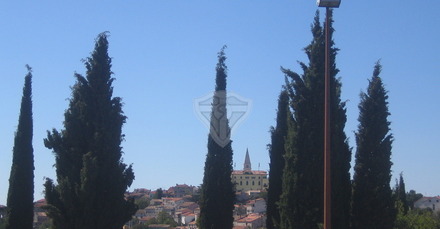 ---
located 40 kilometres from Smrikve
Mediterranean charm and atmosphere
it is the town famous for the Venitian lover Giacomo Casanova visits and Konversada, the first commercial naturist campsite in Europe
for century was the summer residence of Porec Bishops and during the Roman times Montraker was an important quarry
not to be missed: the Bishops castle, the views from the old town, the Church of St. Mary of the Sea and Dusan Dzamonja's sculpture park
events not to be missed: summer sculptors' school Montraker for three weeks starting the last week of August
---
VRSAR – VIRTUAL TOUR
Vrsar is located in a very picturesque landscape with number of green islands in front of it and several interesting buildings to be visited. The old town of Vrsar is placed on 54 meters high hilltop and you will recognize it for the yellow coloured Bishops' castle on the top of the hill nearby the recently made bell tower.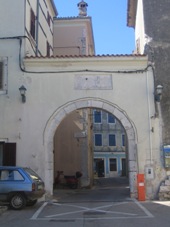 You have to turn left from the main road towards the old town and park the car just before the street where the area of the old town starts. From there you can walk taking the road that goes towards the hilltop.
It is quite a long and straight street that will bring you in front of the small Church of St. Fosca from the 17th century. If you take a look on the right side of the church you will note the old town gate named St. Fosca from the 13th century. Above the gate there is a small coat of arms with a Lion of St. Mark.
From the St. Fosca gate just continue to walk towards Bishops' Castle. On your left side you will pass near to a house with a well and few meters from there you will be on the top of the hill in front of the castle and the Parish Church.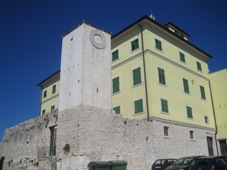 Bishop's Palace is very attractive and have been recently restructured. On the nearest angle to you, where the walls surround the palace, there is an old clock tower.
This palace or castle is very old and dates back into the 12th century.

As most other centuries old buildings it has been restructured several times. It got its present shape after reconstructions from the 14th century until the last modifications in the 18th century.
For centuries Bishops from Porec, that named themselves Counts of Vrsar, used this palace. Later on Venetians used it and in the 19th century Counts de Vergottini bought it.