Roman Empire in Istria: "The big change in Istria happened when Pula started to develop"
Istria was an important part of the Roman Empire. You can see from the Roman Empire in Istria map that a lot of towns and villages of today were also Roman towns and villages.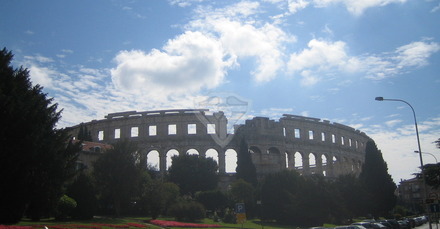 ---
Istria was important during the Roman Empire for several reasons:

for its olive oil,
for its wine,
and as a vacation place for the Roman patrician families.
Istrian wealth during that period derived mainly from the olive oil production. At the time olive oil was not only used for cuisine but also for lighting. Thanks to the olive oil Pula was for few centuries considered one of the richest towns in the Empire.
Romans built a lot in Istria and some beautiful buildings have been preserved until today in places like: Pula, Porec, Medulin and the Brioni islands.
Romans built: roads, aqueducts, towns, military castrums, squares, temples, theatres, amphitheatres, fullonica, amphorae factories, kazuni, villas, villas rusticae, etc.
In this section of Istria from Smrikve I would like to highlight some interesting facts from the Roman times that are still part of the Istrian culture and that might be interesting for the visitors of Istria. Usually is interesting to know that some historical personalities before you visit lived in certain places.
Before the colonisation of Istria and other more eastern parts of the Roman Empire, Romans built a town near Trieste named Aquileia that will become, ten centuries later, an important town in the Istrian history.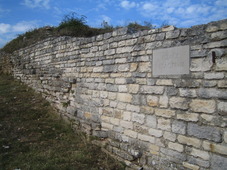 The Roman story in Istria can start after the battle in Nesactium. This date is indicated as the start of Roman colonisation of Istria.
Nesactium was the most important Histri tribe settlement in Istria and was conquered in 178-177 BC by the Roman Consul Claudio Pulcro.
The Roman writer Tito Livio described how the town was conquered. According to his descriptions the Romans deviated the river that was going to Nesactium. Histri interpreted this event as the fact that Gods have abandoned them.
Tito Livio also described that Epulon, king of the Histri, stabbed and threw him selves from the town walls. According to the story also Epulon's soldiers, their wives and children were killed on their own just to avoid to become Roman slaves. In this battle over 8000 people of the Histri tribe were killed and 200 Roman soldiers.
After the battle Istria will be almost for six century in peace and thanks to this situation the region will strongly develop.
The big change for Istria happened when Pula started to develop.