Dajla – Daila: "Villa Grisoni"
Dajla is located few kilometres north of Novigrad, in the north western part of Istria. This is another place that is worth to be visited because it hosts one of the famous Istrian landowners countryside villas. Hopefully one day life and beauty will return in this complex.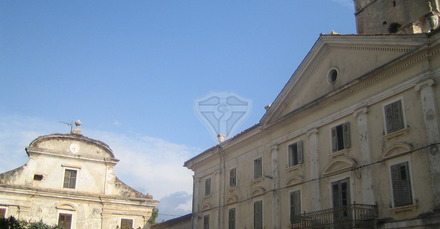 ---
located 75 kilometres from Smrikve
Mediterranean atmosphere
not to be missed: Villa Grisoni complex that is a mix of Neo classical and Baroque architecture
---
DAJLA – VIRTUAL TOUR AND HISTORICAL OVERVIEW
This attractive villa in Dajla bears witness of the refined taste and the high culture of the Istrian landowners.

The villa is probably the most beautiful countryside Istrian villas that has been built in Istria during the last centuries. It is a rare Istrian country complexes to be situated in the immediate vicinity of the sea.
Romans used to build their Villas Rustica nearby the sea in anprotected areas because during the Roman Empire Istria experienced 600 years of peace.
Later on, during the Middle Ages, due to many wars people returned to live in the fortified towns on the hilltops and also the towns on the coastline were fortified.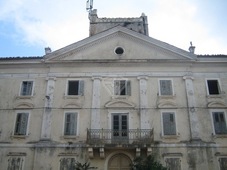 The Villa in Dajla was built by Grisoni family and was the centre of their land holdings. In 1775 Count Santo Grisoni built two harmonious Baroque buildings which form a yard in the middle.
In 1839 Count Francesco Grisoni completed at the end of the garden a representative building in the neo-classical style with a triangular gable on the façade and a particular tower in the back of it.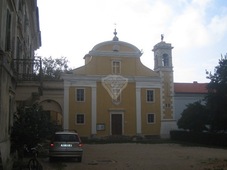 On the left side of the main building there is the Church of St. John the Baptist from 1783.
Opposite to the church there is a second identical Baroque building that was the house of the chaplain.
From the main and harmonious Baroque buildings there are other buildings that continues till the seashore.
The buildings on the right side have preserved most of the original architecture, while the buildings that from the church continues towards the seashore have lost over the centuries their original architecture.
Nearby the seashore there is a wall that limits the court yard from the sea with a decorated portal that allow you to access the private stone made pier.
Unfortunately the complex have been preserved partially and the beauty of this Istrian countryside villa would need significant investments to bring it to its original beauty