Barban – Barbana: "The race of the ring"

Barban is an old Istrian village, located in south eastern part of Istria on the old Roman Consular road Pula - Rijeka, surrounded by valleys and hilltops. Today Barban is famous for being home town of a unique and old horse-race - "Trka na prstenac". The event established in 1696 by family Loredan take place every summer in August.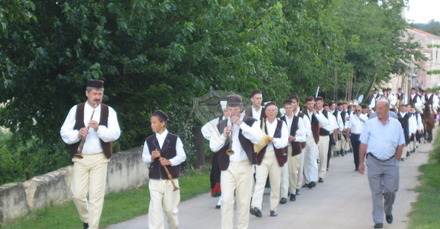 ---
located 28 kilometres from Smrikve
it is famous today in Istria for the race of the ring
not to be missed: Loredan's palace, the Parish Church of St. Nicholas and the frescoes paintings in the Church of St. Anthony the Abbot
events not to be missed: "Trka na prstenac" – the race of the ring in August
Istria from Smrikve aims to promote Istrian cultural heritage... Slow Travel, Slow Food and Sustainable Living... and in this section dedicated to Barban-Barbana's heritage you may note the permament virtual "Slow Travel Exhibition" of selected families and events worth visiting.
---
Barban is the place that I like to visit every year during "The race of the ring". In the village there is a very nice atmosphere during the event and the race is very popular in the central Istria.
Every year in August this picturesque and interesting horse-race take place. The central happening of the competition are the horse riders who with a lance hit the ring. The ring is particularly shaped and divided in several parts.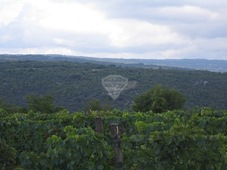 The winner is the one who hits more times the central circle of the ring and collect more points. The central circle of the ring is called "srida".
The race was established in 1696 by the family Loredan and ended at the end of the 18th century. It was restored in 1976 and since then it has been held every year.
The place where the competition is held is few minutes walk from the centre of Barban.
---
BARBAN – VIRTUAL TOUR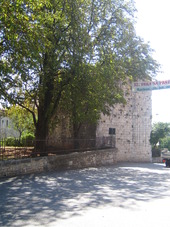 Driving with the car from Pula direction you will note Barban on the left side of the road and once you arrive near to the first buildings you will note the only defence tower that is still in place, named town tower.
Take the street that turn left and pass nearby this defence tower. You can park the car near to the small Church of St. Anthony the Abbot.
This church dates back into 14th century and hosts both frescoes paintings and some Glagolitic inscriptions. From here you can start your visit of Barban and you are 10 minutes walk from the place where "The race of the ring" is held.