Rasa – Arsia:"The youngest Istrian town"
Rasa is the youngest Istrian town built in a year during the Fascism. It is located on the eastern side of Istria between Barban and Labin. This mining town is a unique example in Istria of Fascist architecture and urbanization.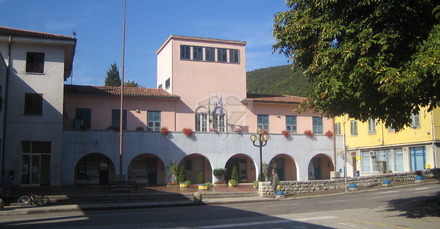 ---
located 42 kilometres from Smrikve
it is the youngest town in Istria built in only 547 days for mining purposes
dominant is Fascist architecture
not to be missed: the main square with the Church of St. Barbara
---
RASA – VIRTUAL TOUR AND HISTORICAL OVERVIEW
It is an interesting story, the story of Rasa. It is interesting because this is the town that did not existed one century ago. It is quite unusual for Istria the age of this town because most of the other Istrian towns and villages dates back in prehistoric times. The reason why Rasa developed is the mining industry.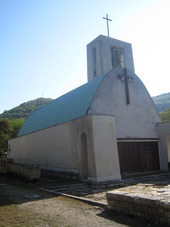 Rasa was built for the miners who worked in the nearby coal mines. Architect Gustavo Pulitzer Finali designed the whole town. Even the church of St. Barbara, patron Saint of miners, was built in the shape of turned over coal wagon while its bell tower reminds of miner's lamp.
The stone sculpture of St. Barbara placed on a façade was made by Ugo Cara' from Trieste.
The foundation stone was laid on in August 1936 by Benito Mussolini. 547 days later the Duke of Spoleto was present at the opening ceremony of the town and few years later the town reached over 10000 inhabitants.
For the community needs the school, the hospital, the cinema and also the sport facilities were built. Rasa was important for coal exploitation and the production reached was around 1 million tons of coal per year. If you are interested in Fascist architecture you can do a visit of this mining town.
Rasa has an interesting urbanisation structure. A part of the main square with its representative buildings like the Parish Church and the Municipal palace, the rest of the town is made of many similar houses that where built as miners homes. They are all very similar.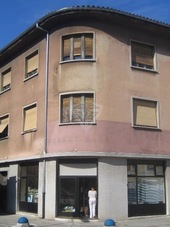 Rasa was built by the Italian government and during the Second World War, from 1943 until 1945 was occupied by Germans. After the Second World War Rasa became part of Yugoslavia (Croatia).
During the Italian Fascist period in Istria many Istrian families suffered from the regime or had to leave Istria. Fascism in Istria applied various repressive measures mostly towards Slav populations and this created the Antifascist Movement. The Second World War was a very painful experience for the Istrian population and many innocent Istrians, both Slav and Latin, died during that war.
After the second World War Rasa became part of Yugoslavia (Croatia). There were three agreements between Yugoslavia and Italy which established that Istria would become a part of Yugoslavia: Paris Agreement of 1947, London Memorandum of 1954 and the Osimo Agreement reached in 1975.