Opatija – Abbazia: "Beautiful architecture of the former official health resort of the Austro-Hungarian Monarchy"
Opatija is like a charming lady. It is the town with the most beautiful palaces on the eastern coast of Istria. Opatija is also one of the best known summer resorts on the Croatian coast of the Adriatic sea. Its 16 kilometres long promenade alongside the sea, "the lungo mare", was defined by Opatija's estimators as one of the prettiest in the World.




---
located 95 kilometres from Smrikve
Mediterranean charm and atmosphere
it was a very important health resort during the Austro-Hungarian Monarchy. Art Nouveau is the dominant architectural style
not to be missed: promenade alongside the sea, Church of St. Jacob, Villa Angiolina, Hotel Mozart, Hotel Kvarner, Hotel Millennium and Hotel Imperial
long list of famous personalities had vacation in this "Adriatic Vienna"
---
OPATIJA - HISTORICAL OVERVIEW
The name of the city derives from the Benedictine abbey of St. Jacob, mentioned for the first time in 1453. The present church of St. Jacob was extended in 1506, than restructured twice in 1793 and 1937. The rose of the church is the original one dating back into 16th and the whole complex is still very well preserved.
The beauty of the town is due to the huge investments that happened at the end of the 19th century.
Everything started in 1844 thanks to Iginio Scarpa and the new railroad.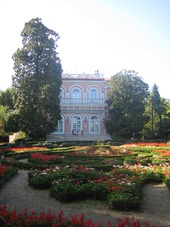 In 1838, Opatija was connected by road to Rijeka and in 1844, Iginio Scarpa, a citizen of Rijeka, patrician and corn trader, decided to build, 200 meters from the abbey, Villa Angiolina with a lovely flower garden and sub-tropical vegetation park.
He named it in the honour of his wife Angiolina. The completion of the railroad line Wien – Trieste in 1844, with a branch line to Rijeka in 1873, created additional interest for this area.
In 1861, the Emperor Maria Anna of Savoia, the wife of Ferdinand I of Austria, was the guest of Villa Angiolina.

Few decades later Opatija will became one of the most prestigious places of the Austro - Hungarian Monarchy.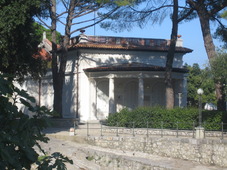 In 1875, Villa Angiolini was sold to Count Chorinsky and in 1882 to the Southern Railways Company. Friedrich Julius Schuler was a shareholder and the director of the Southern Railways Company and in 1884 he built the first hotel in Opatija, Hotel Quarnero (today named Hotel Kvarner).
Friedrich Schuler invested a huge amount of money in Opatija development and in 1885 even more luxurious hotel, Kronprinzesin Stephanie (today named Hotel Imperial), was built.