Kostel – Pietra Pelosa: "An old castle"
Kostel is partially in ruins but is one of the best preserved Gothic Istrian castles. This castle is the second biggest castle of Istria, is second only to Pazin's castle. It is located in the northern part of Istria, not far away from Buzet. It is an impressive building worth visiting also for its over 1000 years old stone made closet.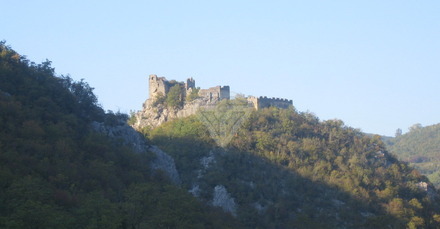 ---
located 74 kilometres from Smrikve
dominant is the Middle Ages Gothic architecture
not to be missed: the visit of the castle and of the oldest Istrian stone made closet
---
KOSTEL – VIRTUAL TOUR AND HISTORICAL OVERVIEW
Driving the car on the road that goes from Buje to Buzet, after the village of Rusnjak you have to drive more carefully because there are no signposts for Kostel.
After few hundred meters you will arrive near to the road that turns left. When you turn left you will pass under the concrete bridge and after few more kilometres you will see, in front of you, on the top of the hill, the ruins of the castle, better known as Pietra Pelosa.
Pietra Pelosa is a castle that remind the very early Middle Ages in Istria. It reminds the movies that each person have seen about that period.
After few kilometres, you will arrive near to the new restaurant that is located on the left side of the road.
Here you have to take a narrow country road to the left and takes you towards the top of the hill, 119 meters high. There is a 20 minutes walk if you decide not to go by car.
Once you arrive on the top of the hill, the view towards the castle walls and the main keep of the castle, are rewarding. The view makes you feel and breathe in the old times.

Only a part of the main gates of the Castle have been preserved. Once you cross inside the Castle's walls, on your right side, there is a very narrow passage.

When you pass the passage you will arrive to a over thousands years old stone closet.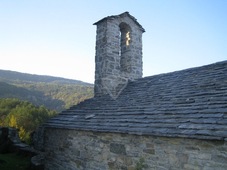 Going back close to the main gates and following the passage towards a small church you will see the ruins of the second and third gates.
The small church inside the walls of the castle is the Church of St. Mary Magdalene in which the service was performed for the last time in June 2nd, 1793.
The roof of this church and the exterior has been recently restored but the fresco paintings that were inside the church have not been preserved.