Kostel – Pietra Pelosa: "An old castle"
---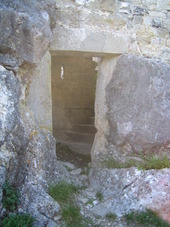 Few meters from the church there are the main castle doors. The doors are very narrow and partially excavated in the rock on which the castle is placed.
Inside the castle you can visit only the ruins of the castle's large hall. Other parts of the castle need to be restored. The visit to the castle is worthwhile and very nice experience.
Like many other Istrian settlements, Kostel was also a prehistoric hill fort settlement. It was fortified during the Roman period for the purpose of controlling the valley. This purpose remained also during the Byzantine Empire.
In 805, during the Franks' domination, Kostel became a Marquisate. Later on it was under the Aquileia Patriarchs administration, changing many different rulers over time.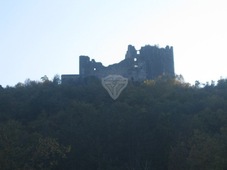 In the 10th century the name of the Castle was Ruvin. Later on, with the arrival of German population, the name was changed into Ravenstein or Rauhstein and it stayed so until the arrival of Venice in 1422.
The Venetians translated the name into Pietra Pelosa. In 1439, the Gravisi family became the new owners of Kostel.

In 1466 Gravisi family received the title of Marquise and continued to rule over the Kostel area until 1848. The castle was destroyed earlier in a fire in 1825.