Seget – Seghetto: "Villa De Franceschi"
Seget is located in the countryside of Umag, about 80 kilometres far away from Smrikve. The visit of this place is worth for one of the most interesting neo-classical Istrian palaces, named Villa De Franceschi. Many centuries ago, family De Franceschi hosted an important private library in this building.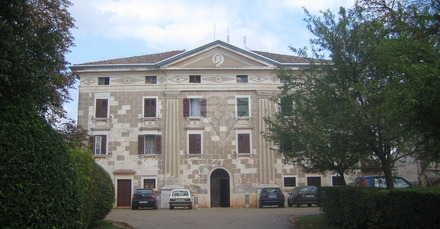 ---
located 80 kilometres from Smrikve
not to be missed: the neo-classical Villa De Franceschi
---
SEGET – VIRTUAL TOUR AND HISTORICAL OVERVIEW
A part of this De Franceschi family villa the other important and beautiful Istrian villas are: Grisoni family villa in Dajla, Rigo family villa in Karpinjan, Polesini and Scampicchio family villa in Sv.Ivan, Barbo family villa in Belaj and Lazzarini Battiala palace in Sv. Martin.
All this villas and palaces have developed following a similar concept. They have in the centre of the complex the main building and on the each side the lower husbandry or secondary buildings. Each mentioned villa is worth to be visited.
Villa De Franseschi is a large country house complex of the one time landowner of the area. The main palace was built in the 18th century to which was attached a private chapel and lower husbandry buildings.

The buildings form a square yard whose one side is entirely open towards the land. In the past probably the property had a gate and the wall on this front side but only a part of this gate have been preserved.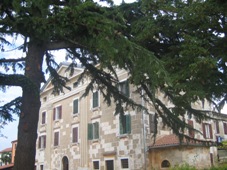 In one angle of the property there is a particular tower that in reality do not fit well with the rest of the architecture. The architecture of the monumental cubic corpus of the central palace is harmoniously decorated with simple geometric ornamentations imitating similar buildings of Venetian landowners in the Italian mainland. The building in whole reflects the neo-classicism style.
Villa De Franceschi is located in a place that was probably inhabited during the Roman period as testified by many findings in the area from that period. In the wood that is located behind the Villa also the ruins of a Roman temple were found.
It is known that in 1604 Venetians gave this land to the refugee families from Greece and Montenegro and they sold the property to the Venetian family Venier in 1623.
In 1720 De Franceschi family bought the property and transformed it into an agricultural model.

The family was the owner of a well equipped library.

In origin the family was from Rome but they lived for a long period on the island of Crete, in the town named Candia, until Turks occupied it in 1669.
Today several families live in the buildings on the property and keep it a live although the beauty of the past times have diminished.