Monkodonja – Moncodogno: "Prehistoric hillfort settlment"
Monkodonja is located near to the main road that goes from Bale to Rovinj, about 5 kilometres eastwards of Rovinj. If you arrive from Bale direction stop and park the car in Kokuletovica village and take a walk of about a kilometre of the unpaved road leading northwards. Monkodonja is an example of prehistoric hillfort settlment architecture.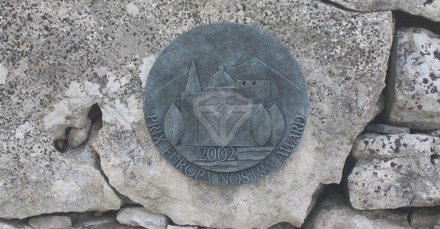 ---
located 29 kilometres from Smrikve
it is the finest example in Istria of the architecture and urbanisation of a prehistoric hillfort settlement
not to be missed: the visit of the prehistoric hillfort settlement following the description boards located on the site and the view from this old settlement
---
MONKODONJA – VIRTUAL TOUR
Monkodonja is located on the right side of the road, towards north, on 81 meters high hilltop.
There are some estimates that in Croatian part of Istria there were about over 350 prehistoric hill fort settlements.

The search I made was focused on almost 90 towns and villages and a very high percentage of the towns and villages I described in Istria from Smrikve are inhabited since prehistoric times.

A long research was made in Mokodonja to allow the visitors to visit this hill fort settlement. Monkodonja is an example of a typical Istrian prehistoric hill fort settlement architecture.
Monkodonja was discovered in 1953 by Mr. Bacic and Mr. Marusic from the Archaeological Museum of Istria and in that year the first excavations started. In 1997 the extensive excavations continued and also the partial reconstruction of the architecture started.
The cross border team was set up between the Institute for Prehistory of the Freie Universitaet Berlin, the Archaeological Museum of Istria from Pula and the Heritage Museum of the Town of Rovinj. They all worked together on this project for a decade.
In 2002 the project was awarded by Prix Europa Nostra Award for both: the results of the excavations and the presentation of the site.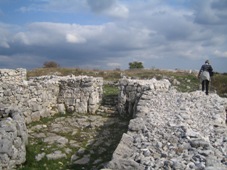 Monkodonja was inhabited in the period between 2000 and 1200 BC and it underwent numerous reconstruction phases.
The settlement is surrounded by massive drywall and as most others Istrian hill fort settlements is placed on a flattened peak of the hilltop.
What is particular for the settlement that you will note is that it has two rings of walls.
The main walls that surround all the settlement form a bigger ring and there is also a smaller ring of walls formed by another drywall that probably delimitated the Acropolis.