Monkodonja – Moncodogno: "In 2002 the Monkodonja project was awarded by Prix Europa Nostra Award"
---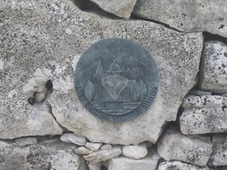 The representative main gates are located in the western part of the settlement and you will recognize them for the Prix Europa Nostra Award placed near to them. If you take a look towards west you will note the sea and you will also note how beautiful the location of this place is.
Once you pass the gates you will be in the area of the lower town. The archaeologists have established that the settlement probably had a hierarchical structure. It is assumed that the lower town, featuring small terraced dwellings and various storehouses, developed in this western part of the settlement near to the protective walls, while the upper town was located between the lower town and the acropolis nearby the walls that encircled acropolis.
It is assumed that the upper town housed artisans while the acropolis, featured large structures, covered porches and narrow passages was inhabited by the ruling class.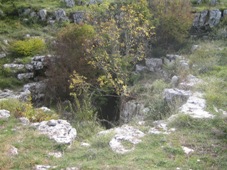 When you pass trough the main gates, in the western part of the settlement, you will note that there were two gates. If you take a walk on the drywall located on the right side of the main gates you will note how large the walls were. You will see near to this western gates one of the only two tombs that were found in Monkodonja. They were both hidden among the alterations of the western gates.
If you continue to walk nearby the walls located on the left side of the western gates you will arrive near the northern gate. About twenty meters from the northern gate, outside the settlement, there is a natural cave that was used by the inhabitants for various purposes.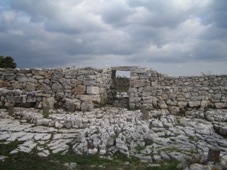 Not far away from the northern gate you will be near the walls of acropolis where the upper town was located. Again on the western side of acropolis you will see the gate of the acropolis. Once you pass this gate on your left side you will note most of the walls that have been preserved from the acropolis.
In various parts of the settlement you will find the boards with pictures and descriptions of the places where you are at the moment that will make your visit easier.
The historical importance of the place and the views you have from this old settlement are worth to include Monkodonja in your Istrian itinerary.
---
MONKODONJA - MONCODOGNO with Dario Marusic music: recommended by ISTRIA from SMRIKVE