Zamask – Zamasco: "Old border village between Austria and Venice"
Zamask is a village located in the northern part of Istria, to the northwest of Pazin. There are several important towns in the modern history that has been split for political or religious reasons and this story happened also to Zamask several centuries ago when the village was crossed by the border between Venetian Republic and Austria.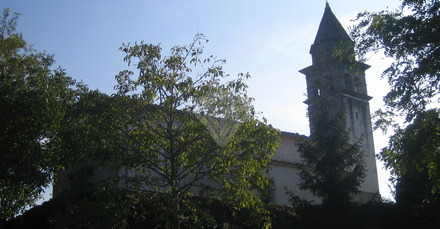 ---
located 63 kilometres from Smrikve
it was an important border settlement divided between Venice and Austria
not to be missed: the view from the village
---
ZAMASK – VIRTUAL TOUR AND HISTORICAL OVERVIEW
When you drive on the old road that goes from Pazin to Motovun you have to turn right towards Trviz and to continue to follow the directions towards Zamask.
The village is located on a 411 meters high hilltop with beautiful views all around towards Istrian countryside. You can see the Ucka mountain on the eastern side and the sea on the western side.
Zamask is a very nice small village and is known for the fact that historically the border between Austrian and Venetians dominions in Istria was going trough the village.

The neighbours of the village were living in two different states. It is a sort of Istrian Berlin.
Once you arrive with your car on the hilltop you will note that the village has two churches.
The bigger church with the bell tower is the Church of St. Michael that was built in 1900 on a place of an older church from 1178.
The Gothic Chapel inside the church dates back into 1178.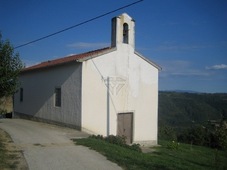 The smaller church without the bell tower is the Church of St. Martin dating back into the 13th century.
The Church of St. Michael was in the Venetian part of the village that after the division of the village, on purpose, was named Zumesco, to differentiate the name from the Austrian part of the village.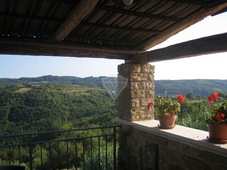 The Church of St. Martin was in the Austrian part of the village and this partwas named Zamasco.
The village is positioned in a beautiful and quite place, surrounded with pretty countryside.
Many houses in the village have been recently restructured or are under restructuring. Those rural houses might become a nice tourism offer.