Krnica – Carnizza d'Arsa: "Krnicki porat"
Krnica is located in the south eastern coast of Istria between Mutvoran and Rakalj. Eastern coast of Istria has many places with untouched nature and beautiful seaside areas. Krnicki porat is one of them.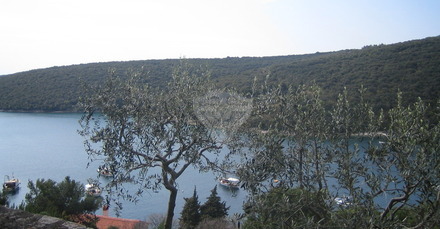 ---
located 24 kilometres from Smrikve
Mediterranean charm and atmosphere
not to be missed: natural beauty of Krnicki porat
---
KRNICA – VIRTUAL TOUR
Krnica is a settlement that I decided to add to this virtual guide after I met a person that own an interesting house in Sumber.
I was visiting with friends the castel in Sumber, and leaving the village we saw a nice and big house. We stopped the car to take few pictures of it when a nice lady that lives in the house went out to chat with as. The house where she lives is one of the most beautiful houses in the village.
Talking with her she said that she was from Krnica, in particular from Skabic (Scabich) family that owned the most important palaces in Krnica and I was interested to visit the palaces she was talking about.
I went to Krnica with my friend to visit another Krnica's beauty named Krnicki porat.

This natural beauty, well known to Romans, as testified by a Roman well, is still one of the protected Istrian areas with very few houses and beautiful nature all around it.
Later on I went also to picture Scabich palaces and I met two very nice old people that live in the court of Antonio Scabich.
If you look carefully to the doorways of two courts you will see that on one is written on the key vault stone "Michele Scabich fece fare 1804" on the other doorway, few meters far away from this one, is written "L.D.G.A. 2 generao 1812 Antonio Scabich F.F." I learned from the old men that Michele and Antonio were two brothers.
First I visited the courtyard of Michele Scabich that is named by the local people "Mali Skabici" that means Small Scabich.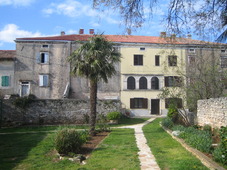 The courtyard and Palace of Antonio Scabich is named "Veliki Skabici" that means Big Scabich. I met a lady in the courtyard "Mali Skabic" that explained to me that the person from Sumber is from this house and I was glad to learn that.
After I went to visit the other bigger courtyard of Antonio Scabich and I met two over 80 years old nice people that told me a bit more about their family.
They explained to me that in this courtyard when they were young there were 44 persons living in the court and today there are only 4 people and each one is over 80 years old. One of them said that at the time they had 1000 chickens, 300 sheep and 50 cows in the courtyard and every person was working in the family even the children were good to take care about the sheep. He indicated to me how big the children were pulling up the stick he was using for walking. Listing to his story I remembered my summers spent with the cousins in my grandparents court yard.