Plomin – Fianona: "Old Romans town Flanona"

Plomin is an old Istrian settlement located on the old road Labin - Opatija, 168 meters above the sea level. The view towards the sea is stunning from the town. On the right side of the Plomin bay you can see the area of Labin and on the opposite side the Ucka mount peak Sisol (803 meters high). Cres island is the land you see on the sea.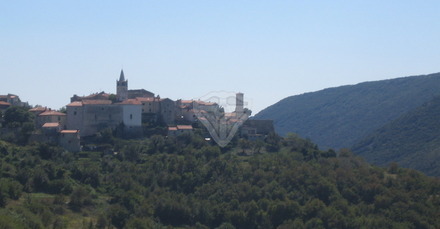 ---
located 54 kilometres from Smrikve
it was an important Roman settlement
not to be missed: the visit to the old town, the sea views, the Parish Church of St. Mary and the Church of St. George the Elder
---
PLOMIN - VIRTUAL TOUR
Plomin is located in a very nice setting, and this is typical for the natives hat knew where to build their first settlements and later on the towns.
Like many other Istrian towns and villages Plomin was also an Illyric prehistoric hill fort settlement and was an important harbour and municipality during the Roman period called Flanona.
It is likely that the origin of the name goes back to the time before the Romans. "Ona" was used in the names of Illyric settlements. A part of the Kvarner gulf got its name from Flanona – "Sinus Flanaticus". Also the Roman road that was connecting Pula to Tarsatica (today Rijeka) was named "Via Flanatica".
During the Middle Ages Plomin was a fortified town. The town walls that can be seen today are dating back to 13th, 14th and 17th century.

Nowadays, old Plomin is almost deserted and this has contributed to its decline. It is very sad to see such a nice old town deserted.

Most of the houses are without roofs and huge efforts need to be made to turn back life into this old town.

Most of the people left the city after the Second World War and the destiny of the cities without inhabitants is to die. A way should be found to rebuild the houses and return to life this once pretty and lively town.
The entrance to the town is near the Municipal Palace with loggia dating back to the 17th century.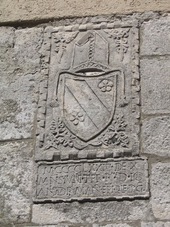 Once you enter the town, you will see many coats of arms of the families that once lived in the city.
On your right side, once you are in the town, there is a door of the late Gothic Parish Church of St. Mary.
The church was built in 1474 and the most valuable art work in the church is the "golden altar" from 17th century.
Walking trough the narrow streets you can still feel the old times and the past glory of this small town.