Visnjan – Visignano: "Istrian planetarium"

Visnjan is another lovely Istrian town located on a hilltop in the north western part of Istria about 52 kilometres far away from Smrikve. It can be reached by taking the new Istrian highway "Y" that link Pula with Buje. Visnjan is famous today in Istria and abroad for its planetarium and various related activities run by Korado Korlevic.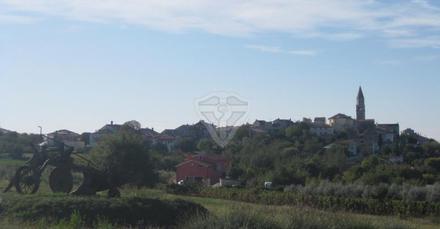 ---
located 52 kilometres from Smrikve
it is famous in Istria for its planetarium
not to be missed: the Church of St. Anthony the Abbot, visit of the old town and the main square with loggia, Sincic palace and the Chruch of Saints Cyricus and Julitta
Istria from Smrikve aims to promote Istrian cultural heritage... Slow Travel, Slow Food and Sustainable Living... and in this section dedicated to Visnjan-Visignano's heritage you may note the permament virtual "Slow Travel Exhibition" of selected families and events worth visiting... you will find recommended accommodations, restaurants, wine and olive oil to taste, event to attend... :)
---
VISNJAN – VIRTUAL TOUR
You will note the shape of Visnjan few kilometres after the indication of Porec on your right side. The town is located on 256 meters high hilltop and its bell tower creates a typical Istrian hilltop town imagine.
Visnjan is today known for its planetarium and numerous discovered asteroids.
Bellow the old town and near the elementary school you will find the parking place. From there you can start the visit of Visnjan and go towards the centre of the old town following the direction of the main bell tower on the hill top.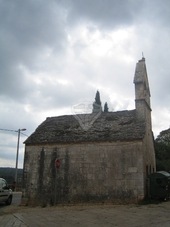 After few hundred meters you will see in front of you one of the oldest building in Visnjan and it is the small Church of St. Anthony the Abbot that dates back into the 13th and 14th century. The church houses some frescoes made by unknown painter and above the altar there is a painting made by Domenico Udinese in 1550. There are also some Glagolitic inscriptions posted on the frescoes from the 16th and 17th century. Domenico Udinese was citizen of Vodnjan.
Nearby this small church also the old town gates, named the big gates from the 15th -16th century, were placed. The gates were demolished in 1750. The second small gates were located near the Venetian loggia.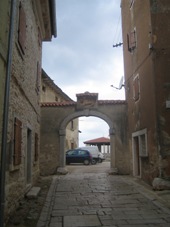 The old town was surrounded by medieval walls. The stone paved street will take you towards Serenissima gate with another interesting stone made Lion of St. Mark with the open book. This gates were rebuilt in the 17th and the 18th century but the Lion of St. Mark that is placed above it is from the year 1517.
Once you pass the gates you will be on the main square where most of the representative Visnjan's buildings are located. On your left side you will note the palace of the family Sincic that dates back into the 17th – 18th century.