Vrh – Vetta: "Sparkling wine"
Vrh is located in the northern part of Istria. There are several roads that you can follow to reach it and they are all nice because Vrh is placed on 396 meters high hilltop with beautiful views. There is a say that from Vrh's bell tower on good weather you can count more bell towers than from any other bell tower in Istria.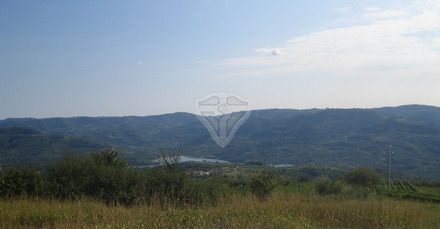 ---
located 78 kilometres from Smrikve
it was an important border settlement of the Venetian dominions in Istria
not to be missed: the view from the village
---
VRH – VIRTUAL TOUR
One road that you can follow goes from Sovinjak to Sv. Donat and after 4 kilometres drive you will arrive in Vrh. The other road goes from the main road Buje - Buzet towards south nearby the river Butoniga.
Vrh was famous in Istria because it was the only Istrian village to have the traditional production of local sparkling wine for over hundred years.
In autumn 2007 I was helping a friend in Buzet to collect his grapes and there was an older man from Vrh that was also helping in the collection. We spoke about Vrh and he told me that older people used to say that the bell tower is the pride of the place if from its top one can see the largest number of other villages' bell towers and he told me that from Vrh's bell tower is possible to see over hundred bell towers. Probably Zrenj could compete with Vrh in an Istria's bell towers view competition.
Vrh is very old town but not much of its antique architecture have been preserved. On the top of the hill you can see the Parish Church of the Assumption of the Virgin Mary and its Venetian bell tower. This church was mentioned for the first time in 1231 but was rebuilt in 1518 and restructured in 1927. Inside the church, on its western wall, there is a particular stone sculpture with a Glagolitic inscription from 1463 built in this wall. This stone sculpture with Glagolitic inscription comes from another old Church dedicated to St. Anthony that was rebuilt in 1894.
There are no rests of the old castle, of the walls, nor the rests of the two old village gates but the views towards Grimalda, Sovinjak, Butoniga lake and other parts of Istria are really beautiful.
Around Vrh there are many families that produce good Istrian quality wine. There are also three families that produce top quality wine like: Nevio Petohlep from Vrh, and Dario Sirotic and Adriano Cerneka from the nearby village of Medveje. Vrh has also a truffles house, named Restaurant Vrh, where you can taste some good Istrian food.
---
VRH – HISTORICAL OVERVIEW
Like many other Istrian towns and villages also Vrh was a prehistoric settlement and later on a Roman settlement. It is assumed that the antique Celtic name was Vetua. During Middle Ages Venetians called it Verch and Germans Perg.
In Croatian is Vrh and in Italian Vetta that means in both languages: the top of the hill.
In Middle Ages Vrh was ruled by the Aquileia Patriarchs and was under Sovinjak administration. Most of its history is shared with this Istrian village. In 1350 was part of the County of Pazin and from 1374 was part of the Austrian dominions in Istria.
In 1508 and 1511 Venetians occupied Vrh and after 1523 Vrh became part of the Venetian Republic.

Vrh was a part of Venetians defensive border line in Istria under Buzet's command. Other castles that were part of the defensive line were: Draguc, Hum, Roc and Sovinjak.
After the fall of Venice in 1797, Vrh followed the destiny of most Istrian towns and villages. It was shortly ruled by Austria and later on by Napoleon. After the Napoleon fall was part of Austria and the Austro-Hungarian Monarchy until 1918. Between the two World Wars was part of Italy and after the Second World War became part of Yugoslavia (Croatia).