Gracisce – Gallignana: "Salomon palace"

Gracisce is among the most interesting medieval towns in the Istrian hinterland. It is situated on a steep hillside about 10 kilometres from Pazin. There are several interesting building. The one preferred to me is the Salomon palace. The whole structure of the town is interesting and views from it are beautiful.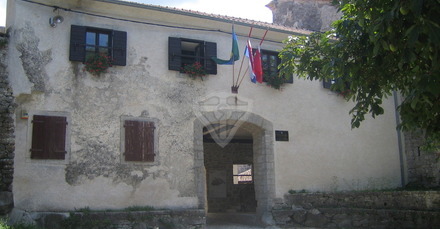 ---
located 45 kilometres from Smrikve
dominant is Istrian continental architecture with Gothic Venetian influence
it was one of the most important and developed Istrian town in the Austrian part of Istria
not to be missed: the Salomon palace, the Church of Our Lady on the Square, the Chapel of St. Anthony, the Church of St. Euphemia, the Parish Church of St. Vid and the view from it
events not to be missed: St. Vito's Day – "Vidova" - celebrated on 15th of June and mouth-organ festival celebrated in May.
Gracisce is not far a way from the village Batlug where my grandmother was born. Pican is another pretty medieval small town located on the top of the hilltop not far away from Gracisce.
The area between Pican and Gracisce was declared protected environment area. From both villages there is a beautiful view on the Istrian country side and Ucka mountain, the highest Istrian mountain peak.
---
GRACISCE – VIRTUAL TOUR
The most beautiful road to arrive to Gracisce is to take the road that goes from Krsan to Pazin. Following that road you will pass trough Pican and later on you will arrive in Gracisce.
You can park the car not far away from the old town gates. You will see on the left side of the main gates that part of the medieval town walls have been preserved as part of the houses.
When you enter Gracisce you will see the Municipal loggia from 1549, standing on the inner side of the entrance to the town. There was also the old "fondaco", the old grain storage house.
Once you enter the town in front of you there is an Istrian tavern named Marino where you can taste some good Istrian food.
You can start the visit by taking the street that goes towards left or the street that goes on the right side. Near to the town gates on the left side there is a place named "berlin", the public punishment place.
I would advise you to take the street on the right side and the first important building that you will see is for me one of the most beautiful houses in Istrian hinterland, the Salomon palace, from the 16th century.

The most characteristic part of the building are its Venetian windows, Gothic "bifora", on the first floor.

The palace is not in a good conditions and would need urgent restructuring investments.

The roof has been fixed and hopefully this building will find the investor to get restored to its historical beauty in the future.