Kanfanar – Canfanaro: "Boskarin's village"

Kanfanar is located in the central part of Istria, nearby the road Pula - Pazin, between Zminj and Dvigrad. Its development started after Dvigrad died. Today Kanfanar is famous for "Jakovlje" - a venue of the traditional fair of Istrian ox - Boskarin. Boskarin is beautiful and intelligent animal that recall the legend of Europe.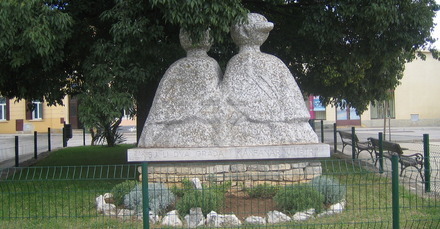 ---
located 30 kilometres from Smrikve
it is famous in Istria for the election of the most beautiful Istrian ex – "Boskarin"
not to be missed: the interior of the Church of St. Sylverster with several artworks from the Dvigrad's Church of St. Sophia, Church of St. Agata and the Istrian house coloured by Branko Orbanic
events not to be missed: "Jakovlje" – St Jacob's day during the summer when the most beautiful Istrian "Boskarin" is elected
Kanfanar is worth to be visited during the St.Jacob's day when Kanfanar become a venue of the traditional fair of Istrian ox – Boskarin, or is worth to be visited for the ruined but impressive medieval fortification of Dvigrad.
---
KANFANAR – VIRTUAL TOUR
When you arrive in the main square of Kanfanar you will note a big stone sculpture made by Josip Diminic and it represents two births that symbolically recall Dvigrad.
On the same square you will note a well and few meters from there on the other side of the street stand the Parish Church of St. Sylvester that was built in 1696.
The greater part of the inventory from the St. Sophia's Church in Dvigrad was moved into it. The early Gothic stone pulpit from the 13th century with a relief of St. Sophia holding two cities in her hands, the painted doors from the 16th century and various other wooden sculptures were transported from Dvigrad's Basilica into the Parish Church of Kanfanar.
There is another Istrian house that is worth to be visited not far away from the railroad. It has a red colour façade and its façade was restructured by Branko Orbanic.

With its particular façade made by using Istrian red coloured soil this house is for me one of the most beautiful Istrian countryside houses.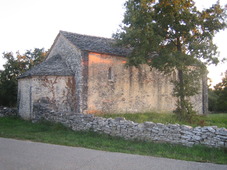 On the opposite side of the village, and a little bit out of it, there is a pre Romanesque Church of St. Agatha that dates back into the 10th century.
To find this church you need to take the road that goes towards Zminj and nearby the last houses of Kanfanar there is a road that goes left towards Barat. You take that road and after about a kilometre, on your left side, you will see this old church.