Brsec – Bersezio: "Eugen Kumicic's native town"

Brsec is located on the eastern coast of Istria on the old road Plomin - Opatija. What is particular for this part of Istria is that massif of the Ucka mountain overlooks this coast and falls steeply towards the seacoast. Settlements are rare compare to the western coast of Istria and only recently they have developed on the shore.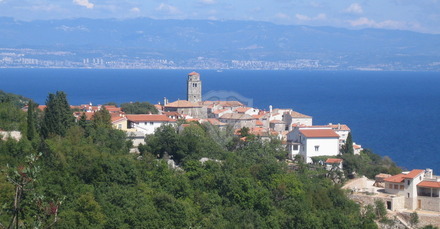 ---
located 65 kilometres from Smrikve
Mediterranean charm and atmosphere
it was the hometown of Croatian writer Eugen Kumicic
not to be missed: the visit of the old town and the frescoes painting in the Church of St. George
The eastern coast of Istria is traditionally called Liburnia after the old historical designation for the area from Rasa river towards the east, which was at one time settled by the Liburnian tribe.
The coast is steep and lacking protected inlets, so the settlements were formed on the high ground generally in places where the old roads were passing following the configuration of the terrain. The old Roman road via Flanatica, that connected Pula with Tarsatica - today Rijeka, went trough this area.
---
BRSEC - VIRTUAL TOUR
Driving to Brsec you will enjoy the beautiful view towards the Cres island and the Kvarner gulf. It is a really nice view and when you come closely to Brsec you will recognize this typical eastern Istrian coast settlement.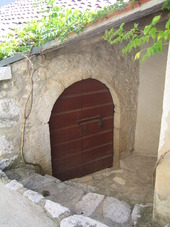 Brsec is situated on a rock that is 157 meters above sea level. This location was important in the past and already in the 6th century it became a fortification village. During the Middle Ages the settlement expanded around the castle like Moscenice.
Brsec was the hometown of Croatian writer Eugen Kumicic. Apparently, Eugen's literary friend from Paris Emil Zola spent few nights in Brsec.

Nearby the old gates of the town there is a monument made in his honour.
Walking through the narrow streets and vaults of the old town there is a feeling of being in Moscenice. The basic architecture of these two towns is very similar and they are close to each other. They are worth to be visited together.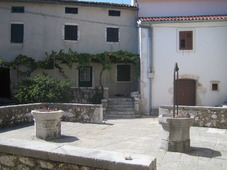 Once you pass the old town gates you will arrive to a small square with two wells and near this square there is the Eugen Kumicic native house, now home of the "Jenio Sisolski" gallery.
At the village top you will find the Church of St. George dating back to the 14th century, with fresco paintings from the 15th century.
Outside the the town walls there is a Church of St. Cross.
There is another church close to the cemetery dedicated to St. Stephen and another small one is situated on the 140 meters high rock outside the town. It is dedicated to St. Magdalene.