Buje – Buie d'Istria: "Watchman of Istria"

Buje is located on the western side of Istria. If you leave the coastline and drive towards the interior of the region you will find yourself on the hilly terrain whose high grounds are dominated by picturesque small medieval towns. Buje is located only 13 kilometres from Umag and lies on 222 meters high hilltop. It is also named the "watchman of Istria".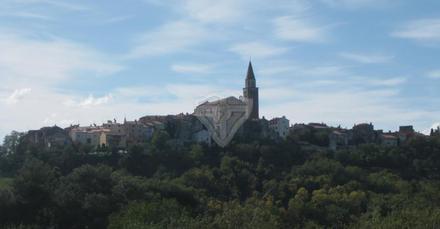 ---
located 74 kilometres from Smrikve
it was an important Roman settlement
dominant is the Venetian architecture
not to be missed: the visit to the Parish Church of St. Servulus and the view from the old town
Istria from Smrikve aims to promote Istrian cultural heritage... Slow Travel, Slow Food and Sustainable Living... and in this section dedicated to Buje-Buie d'Istria's heritage you may note the permament virtual "Slow Travel Exhibition" of selected families and events worth visiting... you will find recommended accommodations, restaurants, wine and olive oil to taste, event to attend... :)
---
BUJE – VIRTUAL TOUR
Most of the Istrian towns were prehistoric hill fort settlements, than became Roman Castrums and later on they developed into medieval towns that we can admire today.
Buje is one of those towns.
From the hilltop you can enjoy the pretty view of terraced fields and arable land, vineyards and olive groves.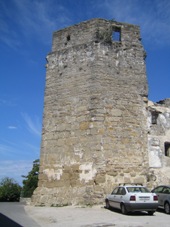 This region is one of the most famous wine-growing parts of Istria with numerous wine cellars and farmhouses located in the nearby villages of Momjan and Brtonigla.
Roman town Bullea antedated the construction of the medieval Buje. Owing to its important strategic position during the centuries the town was also known as the "Watchman of Istria".
Buje is located at the crossroads of important roads which from Pula lead to Trieste and from Umag to Buzet. Roman Bullea was located on the old Roman Consolar road from Trieste (Tergeste) to Pula named Via Flavia.

It is particularly interesting that the Romans built that road, which is over 100 kilometres long, in one year.
The historic part of Buje has been preserved and represents a lovely visit to the history of this particular place. The walls of the town were renovated in the 15th and 17th centuries and also the Venetian defence tower of S. Leonardo from 1458 has been preserved.
When you arrive in Buje, before entering into narrow streets of the old town, you will find yourself in front of the Church of St. Mary built in 1497 with its big bell tower from 1654.