Zavrsje – Piemonte d'Istria: "Istran's leaning tower"
Zavrsje is located on the western side of Istria, not far away from Groznjan and Oprtalj. In the past Zavrsje was connected to Trieste and Porec with the old railway "Parenzana". Today the town is desert but very soon the restructuring of it might start with the funds provided by the European Union. This charming town with important Castle and leaning tower should return to life one day.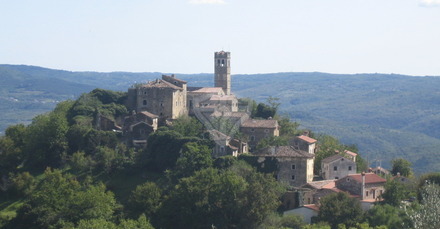 ---
located 70 kilometres from Smrikve
dominant is the Venetian architecture
is on the Parenzana biking trail
not to be missed: the visit of Contarini palace, the Church of the Blessed Virgin Mary and the Parish Church of Blessed Virgin Mary
---
Parenzana was the 123 kilometres long railroad between Trieste and Porec from 1902 until 1935. The railroad was passing through the north-western part of Istria through: Kopar, Piran, Buje, Groznjan, Zavrsje, Livade, Motovun and Vizinada. Parenzana had in total 35 stations and was built with an aim to develop the continental part of Istria.
In 1935 the Italian Government decided to move this railroad to Africa but the railroad never arrived to its destination.
Today the European Union, together with Croatia, Slovenia and Italy, is trying to use this old railroad for the tourism.
Parenzana goes for 78 kilometres through Croatia, 32 kilometres through Slovenia and 13 kilometres through Italy and thanks to the combined efforts of the three above mentioned countries and the EU you can ride the bike in several parts of Parenzana.
---
ZAVRSJE – VIRTUAL TOUR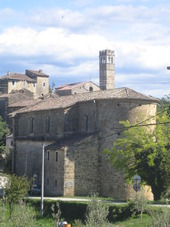 Zavrsje is located on the hilly terrain above the right bank of the river Mirna, like Groznjan. Zavrsje is another charming medieval Istrian town situated on the 373 meters high hilltop.
It is very sad that the town is almost deserted. There are many historic buildings that testify to its glorious past but there are very few people left in the town.
The Istrian Regional government should, in the following years, invest jointly with the European Union support in order to revive the antique splendour of the 11th century Contarini's Palace and of some other buildings that were abandoned after the Second World War.
The most beautiful and typical views of this charming medieval town can be enjoyed arriving from the north-west.
You can park your car near the big Church of the Blessed Virgin Mary built by Lodovico Contarini in 1792. There are some nice paintings inside the church made by Gildo de Troy in 1923. The church was originally designed by the architect Dongetti.
From there you can start your tour walking towards the hill of Zavrsje following the sole road that brings you to the top. Most of the buildings are deserted.

The place is charming and quiet. You can hear the sound of chicken eating in the courtyards of the empty houses and here and there some dog will welcome you. Looking at the beauty of the buildings you can imagine the past glory of this village.