Hum – Colmo: "The smallest town in the world"
Hum is also called "the smallest town in the World". It is lovely and nice town with well preserved architecture. It is located in the northern part of Istria, not far away from Buzet. Driving from Roc towards Hum you will note several stone made sculptures on your road with glagolitic alphabet symbols - this open and permanent exhibition is called Glagolitic Alley.



---
located 76 kilometres from Smrikve
dominant is the Istrian traditional continental architecture
it was an important border settlement of the Venetian dominions in Istria
the area is famous for Biska, the local mistletoe brandy
not to be missed: the visit to the old town, the County Prefect table the Parish Church of the Assumption of the Virgin Mary and the frescoe paintings in the Church of St. Jeronim, the Glagolitic Alley
events not to be missed: the County Perfect election ceremony held on the second Sunday in June and Brandy ("Rakija") Festival at the end of October.
---
HUM – VIRTUAL TOUR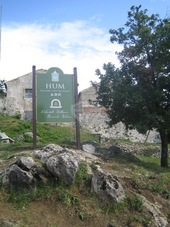 You can reach Hum by taking the road that goes from Lupoglav to Buzet, than turning left near Rocko Polje village. If you drive from Buzet to Lupoglav you have to follow the signposts for Hum located close to the village of Roc.
If you take the road that goes from Roc, after passing trough the Glagolitic Alley you will arrive to the smallest town in the World. Hum was a glagolitic centre and in 1976 the Cakavian assembly decided to create the Alley.

Sculptures that you can spot nearby the road symbolically mark the persons and events connected with the roots and the preservation of the Slavic literacy.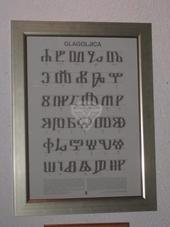 From 1977 until 1983 the famous Croatian sculptor Zelimir Janes constructed on 11 locations of this 7 kilometres long road the symbolic stones markers that represent: the Column of the Cakavian Assembly, the Table of Cyril and Methodius, the Chair of St. Clement from Ohrid, the Glagolitic Lapidarium, the Gorge of the Croatian Lucidar, the Belvedere of Grgur from Nin, the Acent of the Istrian Land Boundaries, the Wall of Istrian Protestants and Heretics, the Resting Place of Juraj Zakan, the Monument to Resistance and Freedom and the Hum City Gate, embellished with twelve medallions symbolically displaying the months of the year.
After 7 kilometres, you arrive to a 340 meters high hilltop where Hum is located.
Today the town has about twenty inhabitants, while at the end of the 19th century there were about one hundred.

A visit to the town will let you understand why it has received the epithet of "the smallest town in the World". Its architecture, town organization and its miniature dimensions are some of the reasons.