Groznjan – Grisignana: "Town of artists"

Groznjan is located on the western side of Istria, not far away from Buje. You will find the road to Groznjan on the old road towards Buje. The other way to reach it is from Porte Porton direction. Four decades ago the artist settled in Groznjan and preserved its beauty and the life in it. It is a charming town with beautiful views.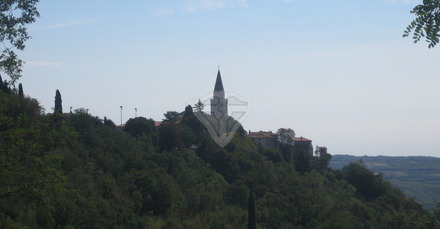 ---
located 68 kilometres from Smrikve
dominant is the Venetian architecture
is on the Parenzana biking trail
not to be missed: the visit of the old town, the Parish Church of Saints Vitus and Modestus, Church of St. Cosmas and Damian and the visit to some art galleries
events not to be missed: the Summer Music School and Ex Tempore Groznjan at the end of September
---
GROZNJAN – HISTORICAL OVERVIEW
In the past Groznjan was connected to Trieste and Porec with the old railway "Parenzana". Parenzana was the 123 kilometres long railroad between Trieste and Porec from 1902 until 1935.
The railroad was passing through the north-western part of Istria through: Kopar, Piran, Buje, Groznjan, Zavrsje, Livade, Motovun and Vizinada. Parenzana had in total 35 stations and was built with an aim to develop the continental part of Istria.
In 1935 the Italian Government decided to move this railroad to Africa but the railroad never arrived to its destination. Today the European Union, together with Croatia, Slovenia and Italy, is trying to use this old railroad for the tourism.
Parenzana goes for 78 kilometres through Croatia, 32 kilometres through Slovenia and 13 kilometres through Italy and thanks to the combined efforts of the three above mentioned countries and the EU you can ride the bike in several parts of Parenzana.
Groznjan is located on the hilly terrain above the right bank of the river Mirna. It is a picturesque and charming medieval town situated on a 288 meters high hilltop.

Groznjan is among the best preserved Istrian medieval towns and it is also known as town of artists. The city is still alive thanks to the artists who today have their galleries in the town.

Most of the inhabitants left the town after the Second World War and almost four decades ago, in 1969, a revitalization program started with the aim of turning the town into a "town of artists".
Nowadays Groznjan has about 80 inhabitants but during the summer there are important music and artistic festivals. There are more than 40 galleries and art shops in the town and during the summer, the International Cultural Centre of Jeunesses Musicales Croatia organize the Summer Music School and numerous concerts.