Buzet – Pinguente: "Subotina in truffles' town"

Buzet is an old Istrian town that preserved most of its medieval town structure. It is located on 158 meters high hilltop in the Mirna valley, in the middle of the northern part of Istria. Buzet was important Roman settlement but was also the seat of the Raspor's Captaincy during the Venice Republic.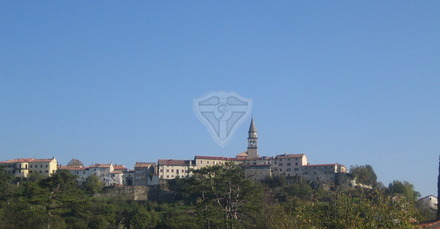 ---
located 84 kilometres from Smrikve
dominant is the continental Istrian Venetian architecture
it was an important military settlement during the Venice Republic and the seat of the Raspor's Captaincy
the area is famous for truffles
not to be missed: the Parish Church of the Assumption of the Blessed Virgin Mary, the Raspor's Captain house, the town museum in the former Bigatto family house, the Baroque well and the view from the old town
events not to be missed: "Subotina" at the beginning of September
Istria from Smrikve aims to promote Istrian cultural heritage... Slow Travel, Slow Food and Sustainable Living... and in this section dedicated to Buzet-Pinguente's heritage you may note the permament virtual "Slow Travel Exhibition" of selected families and events worth visiting... you will find recommended accommodations, restaurants, wine and olive oil to taste, event to attend... :)
---
Buzet is also named the town of truffles. From every road you arrive to Buzet there is a beautiful view towards the fortified old town.

The most interesting event in Buzet is held at the beginning of September. Every year, at the beginning of September, Our Lady's Birthday is celebrated in Buzet.

This is the most important holiday in Buzet and is popularly called Subotina (which means Saturday).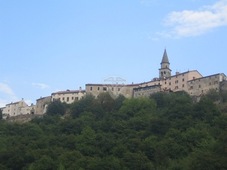 During Subotina, the streets and squares of Buzet turn into the old times stage. In such a scenography set within the old town walls you can take part in a variety of ethno workshops of ancient and almost forgotten crafts.
Carpenters, shoemakers, coopers, tailors, comb makers, basket weavers, oil producers, wavers, and pharmacists, as well as other master of old crafts will demonstrate skills that have been preserved until today.
During all day the old town transform into a historical stage and turn back in time all the visitors of the event.
On the same day you can also enjoy a special gourmet attraction. In a giant pan, several meters large, a plate of giant truffle omelette is prepared (a mixture of beaten eggs and grated truffles). Other Istrian dishes like vegetable stew "manestra", pasta "fuzi", cheese, truffle dishes, sausages and pork loin ombolo can also be tasted. . You can also try some very good Istrian wine. Miro Petohelb's wine is recognized as the best wine in the Buzet area.
---
BUZET – VIRTUAL TOUR
You can park the car on the parking place near the cemetery Church of St. Vito. This church was built in 1653 by the Raspor's Captain Marc'Antonio Grimani.