Moscenice – Moschiena: "An old fishermen's village"

Moscenice is located on the eastern coast of Istria on the old road Plomin - Opatija. In this part of Istria the massif of the Ucka mountain overlooks the coast and falls steeply towards the sea. This natural environment influenced also the town structure. Moscenice is full of steep and narrow streets with lovely vaults worth to be visited.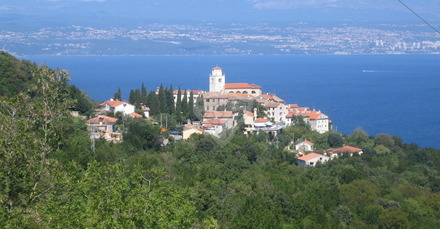 ---
located 72 kilometres from Smrikve
Mediterranean charm and atmosphere
it was an important fishermen's settlement over the centuries and the old town structure and architecture is very interesting with its vaults, narrow streets and nice doorways
not to be missed: the visit of the old town and the view from the Parish Church of St. Andrew
The eastern coast of Istria is traditionally called Liburnia after the old historical designation for the area from Rasa river towards the east, which was at one time settled by the Liburnian tribe.
The coast is steep and lacking protected inlets, so the settlements were formed on the high ground generally in places where the old roads were passing following the configuration of the terrain. The old Roman road via Flanatica, that connected Pula with Tarsatica - today Rijeka, went trough this area.
---
MOSCENICE – VIRTUAL TOUR
Driving to Moscenice you will enjoy the beautiful view towards the Cres island and the Kvarner gulf. It is a really nice view and when you come closely to Moscenice you will recognize this typical eastern Istrian coast settlement.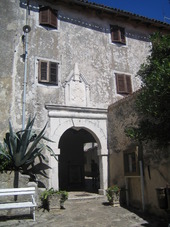 In particular, you will note the Parish Church of St. Andrew and its massive bell tower that dominates the steeps. The view is very similar to the view of Brsec. Moscenice is situated on a rock about 173 meters above sea level. In the Middle Ages the settlement, like in Brsec, expanded around the castle.
When you park the car and arrive near the town gates you will see several interesting historical buildings around you. Opposite the town gates, outside the town walls, there is a small Church of St. Bartol, dating from 1628.
Another small church, that of St. Sebastian, built in 1501, is about 150 meters far, near the road towards Brsec. They both have typical Istrian porch that characterize the architecture of the small Istrian churches.
On the left side of the town gates there is the 13th century rectangular castle tower. The outer walls of the peripheral row of houses were built in such a manner as to replace the medieval town walls from the 11th century.
The town gates, dating back to 1654, bear a nice Hapsburg's family coat of arms and Near to the town gates, on the right side, the municipal loggia has been preserved. The last time was reconstructed in 1654.
When you pass the town gates you will enter a lovely, picturesque fishermen's village characterized by narrow stone paved streets, many stairs and vaults.