Moscenice – Moschiena: "An old fishermen's village"
---
The entrance of the village hosts a museum in a place that once was a prison. The basic architecture of what you will see around you in the village dates back to the 13th and 14th century. It is really a charming village.
Once you enter the village there are few pretty buildings: the Negovetic-Deskovic and Negovetic palaces from 1770 stand out with their notable facades.
If you continue down the road, after few meters you will arrive near the Parish Church of St. Andrew, the patron saint of fishermen, last time modified in the 18th century. Above the side door of the church you will see Moscenice coat of arms that represents St. Andrew with a fish.
The bell tower of the church dates back to the 13th century while its particular cupola was added in 1658. If you walk around the church you will arrive at the place where the cemetery was located in the 17th century. Today there is a beautiful view from the shadow of few big, century old, trees.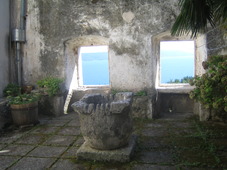 If you walk around the village, going towards the lower part of the town, you will arrive to an antique well.
It is a charming place with the well in the middle and two windows with the view towards the Kvarner bay.
During many centuries Moscenice was on the Austrian border with Venice. According to some sources Moscenice, like Veprinac, had a Croatian town statute written in 1444 that in 1629, Giorgio Barbo, reformed in Italian. This would mean that for many centuries Moscenica had its own municipal administration.
Today Moscenice has 300 inhabitants that live mostly from tourism which is the main local economy. The preserved architecture, dating back mainly to the 13th and 14th century, make this place worth visiting.
---
MOSCENICE – HISTORICAL OVERVIEW
Moscenice is another very old Istrian town. It is known for sure that in prehistoric times the cave Druska pec, near Moscenice, was inhabited. It is assumed that Moscenice could have been the harbour base of Liburnic population which, before the Roman conquest of Istria, used to engage in pirate activity in the Adriatic Sea.
There are no written documents about this fact, but during the Roman Empire Moscenice could have been the fortress aimed to control the old road that was connecting Pula with Tarsatica (today Rijeka). After the Roman Empire dissolution and barbarian invasions, Moscenice became part of Byzantine Empire and the Carolingian Kingdom.
During the Middle Ages Moscenice, like most other Istrian towns, changed several rulers some of whom were: Pula's Bishops (984 or 1028), Counts of Duino (1139), Walsee (1399), Hapsburg family (1466), Raunicher (1468), Rauber (1478), Bernardino and Giorgio Barbo (1560), Schrantz (1583), Wagensberg (1609), Thonhausen (1613), Jesuit order of Jegenburg (1639) Jesuit order of Rijeka (1637), Hapsburg family (1733), Thierry (1784), Vranyczany (1843).