Vizinada – Visinada: "Birth village of Carlotta Grisi"

Vizinada is an old Istrian village located in the north western part of Istria, about 58 kilometres far away from Smrikve. You can reach it by taking the old road that goes from Pula to Buje - the old Consular Roman road Via Flavia. Vizinada is famous for being the birth place of Carlotta Grisi, one of the most important ballet dancers of the 19th century.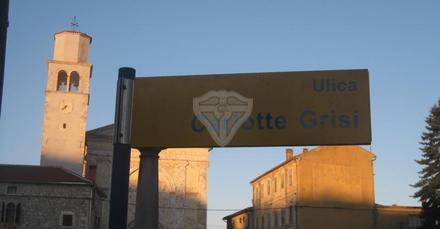 ---
located 58 kilometres from Smrikve
dominant is Venetian architecture
it is the birth place of Carlotta Grisi, Caronne Adele Giuseppinna Maria Grisi, one of the most famous ballet dancers of the 19th century
not to be missed: the main square with the Baroque public well, the old granary house and the Parish Church of St. Jeronim, and also do not miss the frescoes paintings in the Church of St. Barnabas and in the Church of Our Lady "dei Campi" in Bozje Polje
events not to be missed: "versi na sterni" is hold every Spring on the Baroque public well (Istrian poets gathering)
Istria from Smrikve aims to promote Istrian cultural heritage... Slow Travel, Slow Food and Sustainable Living... and in this section dedicated to Vizinada-Visinada's heritage you may note the permament virtual "Slow Travel Exhibition" of selected families and events worth visiting... you will find recommended accommodations, restaurants, wine and olive oil to taste, event to attend... :)
Vizinada is famous also outside Istria for the ballet dancer lovers because it is the birth place of the famous dancer Carlotta Grisi. Her real name was Caronne Adele Giuseppinna Maria Grisi and as very young she started to study ballet at the famous Ballet School of Teatro alla Scala in Milan.
---
VIZINADA – VIRTUAL TOUR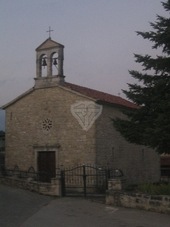 Once you arrive a kilometre before Vizinada, from Pula direction, you will note nearby the road a very beautiful countryside. Like most other part of Istria also in Vizinada people take care about their land. On your right side on a small hill top you will note a beautiful garden and this is the family that probably take care about this pretty land that surround you.
Once you arrive in the village, always on your right side, you will note a nice and small stone made Romanesque Church of St. John the Baptist. This church dates back into 1579 and the centre of the old town is located downside the hill.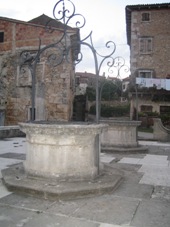 You have to take the road that goes on the right side of the church towards the centre of Vizinada. Almost every building in the old town would need investments to restore their historical beauty but there are still several important old buildings that have been preserved in Vizinada.
The most representative art work is the Baroque public well made by Simeon Battistella in 1782. This well has two wells and a very beautiful stone made access stairs. Every spring this well becomes the site where "Versi na sterni" take place.