Plomin – Fianona: "Old Romans town Flanona"
---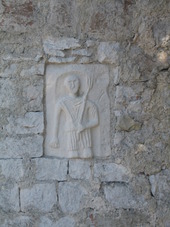 On the other side of the town, near to the Church of St. George the Elder dating back to the 11th century, you will enjoy the view towards the Plomin bay. You will also see the biggest man-made structure in Croatia, the Plomin's 300 meters high thermoelectic powerplant chimney.
On the Church of St. George the Elder you will also see a copy of the stone sculpture of "Silvan", the Roman divinity of woods and nature. This represents one of the oldest glagolitic inscriptions in Croatia. The original sculpture is located inside the church.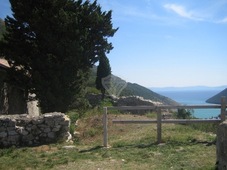 In Plomin's photo gallery you will find some pictures of the buildings and streets that have been described above.
In the last years, the municipality of Krsan is trying to stop the decline of the town and hopefully, the way many Istrian towns are turning back to their antique beauty, also the antique Flanona might be returned in the future to its antique splendour.
---
PLOMIN – HISTORICAL OVERVIEW
Plomin followed a similar history to many Istrian towns and villages and Plomin we see today has over 3,000 years of history. On the same place there was a prehistoric hill fort dating back to year 1000 BC. Around Plomin there were other four prehistoric hill forts and also the Sisol's peak had a prehistoric hill fort settlement.
In the 2nd century BC Plomin was under the Romans and was named Flanona. During that period there was a road conecting Plomin with Nesactium (today Vizace) on the south and with Tarsatica (today Rijeka) on the north.
For the first time Flanona is mentioned by Artemidoro di Efeso in the year 100 BC. In the year 12 BC, Plomin was already a municipality with a Roman status of "cives" equal to other Istrian territories with this particular status. In 173 AD, Plomin was not any more part of Liburnia but part of Istria.
In the 5th, 6th and 7th century the town was destroyed several times: first by Atila and than by other barbarian incursions. In the 6th century it was part of the Byzantine Empire and at the end of 8th century part of Carolingian Kings.
During the Middle Ages Plomin changed many rulers: the Aquileia Patriarchs (1012), Counts of Gorizia (1295), the Aquileia Patriarchs (1296), Fabiano and Bartolomeo (1338), Launicha (1368), Venetians (1381), the Aquileia Patriarchs (1382), Venetians (1420).
From 1420 onwards the town was part of the Venice Republic but judicially was dependant on Labin. Plomin was affected by several wars and it was attacked in 1599, 1613 and 1617 by Uskoci and in 1618 was returned to Venice.
After the fall of Venice in 1797 Plomin became part of the Austrian Empire and later of the Austro-Hungarian Monarchy.
Like most other Istrian towns and villages also Plomin experienced the Napoleon rule.