Vizace – Nesazio:"Nesactium – Histri's main settlement"
---
---
VISACE – HISTORICAL OVERVIEW
Nesactium was conquered in 178-177 B.C. by the Roman Consul Claudio Pulcro. Roman chronician Tito Livio described the epic episode how the town was conquered and according to Tito Livio's descriptions of the events the Romans deviated the river that was going to Nesactium and Histri interpreted this events as the fact that Gods have abandoned them.

Tito Livio also described that Epulon, king of the Histri, stabbed him selves. According to the story also Eupolon's soldiers, their wives and children were killed and threw from the walls just to avoid to become Roman slaves. Always according to the Roman sources in this battle over 8000 people of the Histri tribe were killed and about 200 Roman soldiers.
After the Roman conquest of Nesactium the town continued to be important centre in Istria until the times of the Emperor Augustus. During Augustus times Nesactium was named Augustus Nesactium and in 54 became a Municipality.
Later on Nesactium was remembered as "Res Publicam Nesactiensium" and was remembered in writings of Livio, Plinio in 79, Tolomeo in 180 and anonymous from Ravenna in the 7th century.
The town fell into ruins after the destructive inroads of Slavs and Avars in the 6th and the 7th century. Probably the town disappeared slowly because Pietro Kandler assumed that the village named in some documents from the 14th century with the names: Isaccio, campi Isacci or Isazzi could have been the old Nesactium. Local people after centuries probably changed the name into Visace and Vizace.
Another reference that could recall the old town name is the surname of the person that signed the friendship agreement between Venice and Pula in 1243 that was named Anzelus de Mesazo.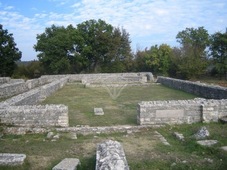 Today in Nesactium you can see relics and the walls of the prehistoric hill fort from the Histri times, some buildings from the Roman period and few churches from the 5th century.
Once you pass the main gate and enter the old town, the first building you find on your way are Capitolium and Eia's Temple from the 2nd century. Capitolium consists of three temples. It is likely that the complex of the temples were partially built on the site of the earlier Illyrian cult building. You can still see a small square with a porch in front of the central temple that practically represents the eastern part of the Capitolium.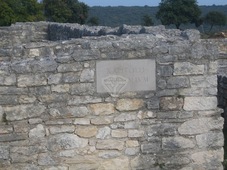 The ruins you see at the end of the village on the left side of the Capitolium are the ruins of the two churches from the 5th century, also named twin Basilica.
The northern one is the bigger one and the southern one is also big but a little bit smaller compared to the northern one. Some experts have found that the type of this churches recall the Aquileia type.
Aquileia is the town founded by Romans before Trieste and this town had a strong influence over Istria during the Middle Ages.