Istrian Cuisine, Wine and Olive Oil
---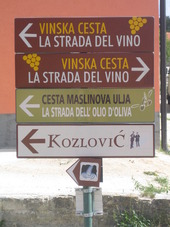 Among the high quality wine producers you will also find the Istrian Quality sign that indicates outstanding quality while among the high quality olive oil producers you will note that many of them produce also Extravergin Olive Oil quality olive oil.
Your search can be done in two ways:

by selecting items listed in the header above, or
by making the search using the toolbar in the town or village you are visiting.
Truffles houses are the places where you can taste traditional Istrian food but also food prepared with truffles' ingredients.
Agritourisms' are also the places where you can taste traditional Istrian food and usually the owners produce on their own almost everything you taste in the restaurant.
Taverns are places where you can taste traditional Istrian food but not all of this food has been produced by the owners.
Restaurants are among the best Istrian restaurants and you can taste both typical Istrian and International food.
Rural family hotels are particular because they all also have restaurants so even there you can taste very good Istrian traditional food.
The other search that I advise to the readers and specially to the future Atrivm Smrikve Hotel guests is to select the town or villages that they are planning to include in their cultural visit that day and to use this database to select the place where they would like to have a rest and try some typical food for the area you are visiting.

Using the database you will get the name of the place where you can taste good Istrian food but also the names of the top quality wine and olive oil producers thus your culturale experience should be complete. Once you order something to eat you can also ask the owner the wine indicated in the list so you will taste both food, wine and olive oil from the place you are visiting.
In my opinion this way also the historical place, town or village, you are visiting will be further impressed in your memory thanks to the special testes of the food, wine and olive oil grown in the area.