Boljun – Bogliuno: "Sinkovic's Uskoci base"
---
You will note walking that, like in many other Istrian towns and villages, there are still many abandoned houses.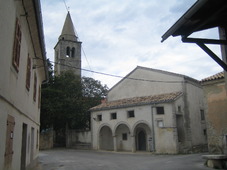 Continue the visit trough this street that will drive you in front of the town loggia from 1500 and the old "fontico", a granary storage house.
Near to the town loggia there is 25 meters high bell tower and the Parish Church of St. George from 1641. This are the oldest and most representative buildings of the old town. There are several houses that have been recently restructured and also some of the mentioned monuments would need restructuring efforts.
In Boljun's photo gallery you will find few pictures of Boljun's castle and other main buildings mentioned above.
---
BOLJUN – HISTORICAL OVERVIEW
Like many Istrian towns and villages also Boljun was a prehistoric hill fort settlement and later on an important Roman settlement named Ad Fines.
In the Middle Ages documents Boljun was named Baniol or Bagnoli. Several other names versions in its long history existed: Finale, Alvum (Tolomeo), Vinal or Vaniol (Germans), Bagnolium or Balneolum (late Roman period), Bognon (1616, Marco Loredan) and Buglione (1784).
It is known that in 1064 Enrico IV donated Boljun and other Istrian towns and villages to Marquise of Istria Ulrich of Weimar. In 1102 his son Ulrich II donated Castrum Vaniol, as most of its other properties in Istria, to the Aquileia Patriarchs.
From 1335 onwards Boljun changed different feudal rulers: Giovanni Turrini (1335), Isacco Turrini (1356). After Turrini's death Boljun was occupied by the brothers Eberstein until 1373.
Following the order of the Aquileia Patriarchs, Ugone VI of Duino occupied the Castle and became the owner of the village. In that period probably the defence system of the town was reduced. Ugone VI of Duino's successors, family Walsee, sold the village in 1387 to Michele of Wachsenstein, the Captain of Pazin.
In 1374, after the death of Alberto IV, the County of Pazin became part of Hapsburg family dominions and the Walsee family ruled over Pazin after Wachsenstein. Thanks to this new situation they gave Boljun in feud to Enrico Erlacher and later on to Tommaso Erlacher.
Moyses family, lords of Kozljak, obtained the feudal rights and not the property over Boljun from a certain Zechoner. In 1480 the ownership of Boljun returned from Erlacher to Hapsburg family.
The successors of Moyses sold their rights to Ferdinando of Austria in 1555 and he rented the feud to Mosconi from Pazin.
In 1600 Boljun was rented to Giovanni Sinkovic, the lord of Lupoglav. Sinkovic was among the leaders in the Uskoci war between Austria and Venice. In 1616 Marco Loredan, that was on Venetians side, commented that was impossible to take Boljun.
During the 17th century Boljun became a municipality and was under Austria until the end of the First World War. Between the two World Wars was part of Italy and letter on became part of Yugoslavia (Croatia).
During the Italian Fascist period in Istria many Istrian families suffered from the regime or had to leave Istria.