Gologorica – Moncalvo di Pisino:"Mikula Gologoricki"
---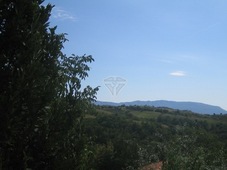 Very nice work and with a little bit of imagination you will recognize the main buildings of the village.
Gologorica is also known for the agritourism Gologoricki Dol that is located in Lukacici in the Gologoricki Dol (Gologorica Valley). People that enjoy good cuisine and the nature love this place.
One way to arrive in the agritourism Dol is to take the road that goes towards left before entering Gologorica. In this place you can enjoy unspoiled natural beauty of the place and the food prepared by the Stojisic family that runs this agritourism farm.
In Gologorica's photo gallery you will find few pictures of this old village.
---
GOLOGORICA – HISTORICAL OVERVIEW
Gologorica is mentioned for the first time in 12th century and with Lupoglav is among the first Istrian villages to be mentioned with Croatian name in medieval documents.
Near Gologorica there was a prehistoric hill fort settlement... after this sentence I am pleased to share the creativity of the local people expressed during the masquerade popular Festival locally called "mačkare"...
... and also some Roman rests have been found in the 19th and the 20th century.
It is known that in 1102 the lawyer of the Aquileia Patriarchs, Egino, sold Gologorica to another lawyer of the Aquileia Patriarchs, Corrado. After that there are no news about Gologorica until 1360 when the property was owned by Mainardo of Rasch, the Lord of Sovinjak.
Mainardo sold Gologorica before 1367 to Schomberg family, the Lords of Sumberg. At the beginning of the 15th century.
Anna Schomberg married Giovanni of Guteneck, the Lord of Wachsenstein (Kozljak) and after her husband's death she sold Gologorica to the ruler of Pazin, Andrea Schuel. In that document Gologorica was named Mons Nudus.